Posted: August 24, 2019
by the Most Rev. Mitchell T. Rozanski
Bishop of Springfield, Massachusetts
Mass of the Holy Spirit
Thomas Aquinas College
New England Convocation
August 24, 2019 
Isaiah 11: 1-4, Romans 8:14-17, John 14: 23-26
Dear Brothers and Sisters in Christ,
We gather here in great solemnity, giving thanks to Almighty God for the opening of Thomas Aquinas College on the East Coast of the United States. We do so in this chapel, dedicated to Our Mother of Perpetual Help, an icon that has inspired disciples of the Lord Jesus throughout the ages. At the foot of the Cross, as Mary stood with the beloved disciple, John, Jesus gave her to him as his mother and therefore has given Mary to all of us as our mother while we are on this earthly pilgrimage. May Mary, who with great care watched over her Son in His youth, continue to watch over all of us, particularly the faculty, administration, and students of Thomas Aquinas College, who will visit this chapel for the celebration of the Eucharist, private prayer, and devotions. May this chapel, dedicated to Our Lady, be the true home of Thomas Aquinas College, drawing many to come here to be united with Jesus, Mary's Son, Our Lord and Savior, and source of all knowledge.
We are surrounded by much natural beauty here in Northfield — the gently rolling hills and the stately trees of this Massachusetts region tell of the glory of God. In the coming weeks, you will experience the palette of God's creation in the turning colors of the leaves, the chill that enters the air, and, finally, the snowfall that will inevitably come with the winter months. Although you will be in the same physical area, you will witness the glorious changing of the seasons as the scenery around you will seemingly be transformed each day in its beauty. Yet, in the midst of all this change, you will be discovering ever more deeply the eternal, unchanging truth that God has given to us in His son, Our Lord and Savior, Jesus Christ.
In 1879, Dwight Lyman Moody founded the Northfield Seminary for Young Ladies here on this spot, desiring to instill a Christian education in the young women whose families normally would not be able to afford a luxury as a private school. From the humble beginnings of his life, one would never have expected Dwight Moody to become such an evangelist, not only to Western Massachusetts, but to a wide part of the world, stretching to the United Kingdom and even the Scandinavian countries. Dwight's father died when he was only four years old. A month after his father's death, his mother gave birth to twins, Dwight's youngest sister and brother.
She was a widow who was faced with the task of raising nine children on her own. Education was out of the question as she sent her children out to work as soon as they were able. At his conversion to evangelical Christianity, Dwight Moody gained a zeal for sharing the Gospel message. At that time, just barely literate, Dwight Moody sought to bring the Gospel message to others in whatever way God would use him as His instrument. On this campus, he was able to achieve a part of his dream for educating future generations, especially in the study of Scripture. One of Dwight Moody's famous sayings is: "Faith makes all things possible; love makes all things easy.
Today, Thomas Aquinas College opens a new chapter to this Northfield property, bringing our Catholic faith to this place in a truly unique and faith-filled way. Like Dwight Moody, the members of the administration and Board of Thomas Aquinas College have stepped out with faith in the Lord Jesus and His gospel by opening up this campus here in Northfield. Relying on the promise of Jesus to be with us always and knowing of a deep hunger for the truth of the Gospel message and the presence of Jesus in our world, this campus will serve as a place to enlighten the minds and hearts of young Catholics so that they, too, from here, may go out to witness to the power of Jesus at work through them.
We know of Isaiah as the great prophet of the Messiah. At a time of many trials in the life of God's people, it was Isaiah's task to instill a sense of hope in them that they were not forgotten, but indeed close to the heart of God. Hence, Isaiah admonishes them not to dwell on the past, but to dream the very dream that God has for them as His people. Indeed, Isaiah's words are particularly meaningful for us today, as this new venture begins relying on God's grace at work and the Holy Spirit to flow here among these rolling hills. For just as God's people faced challenging times when Isaiah prophesied, so too do we encounter many difficulties today. The continuing mass shootings, the opioid crisis, the culture of death all bespeak a society that has turned inward on itself without realizing the dream that God has for each one of us. Through prayer, study, contemplation, dialogue, and service, the students at Thomas Aquinas will witness that it is not our destiny that we turn inward upon ourselves, but look outward to the saving grace of Christ, the giver of the Holy Spirit, Who will bring an end to the "exile" of these current crises and lead God's people back to Him.
Just as the people of Isaiah's day needed that voice to bolster their spirits, so, too, is the witness of the Thomas Aquinas College community needed here in Northfield and well beyond. Well versed in our Catholic Faith, you will be called to be the prophets of our own age, an age that is currently in despair, seeking the good news that brings true freedom of life in Christ and His church.
In His farewell discourse that we hear in today's Gospel from St. John, Jesus assures His apostles that the Holy Spirit will be with them: "The Advocate, that the Father will send in my name — He will teach you everything and remind you of all that I have told you." It is no empty promise, but one of divine origin that is fulfilled in the paschal mystery and Pentecost. At the Last Supper, when Jesus gave to His apostles His own Body and Blood and in this farewell discourse, there is the very presence of the Lord Jesus assuring us that we can walk in the truth if we merely heed His words and embrace His presence among us. Today is a joyful acknowledgment of the presence of Jesus among us, a promise fulfilled that He will give us the grace and means to live and witness to His gospel message.
In 1273, the namesake of this college, St. Thomas Aquinas, was in deep prayer before the icon of the crucifix at the Dominican Convent in Naples. Our Lord spoke to him: "You have written well of me, Thomas, what do you ask for a reward?" Thomas replied: "Nothing but you, Lord." St. Thomas Aquinas knew the great treasure that we have in Our Savior, in our faith, and in our Holy Catholic Church. May all who come to Thomas Aquinas College, in this majestic setting, witness the glory of God, learn of our faith and desire nothing but the great prize that awaits us Jesus Christ, the Son of the Living God.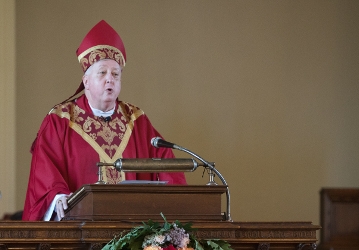 "In our classroom discussions, we are responsible for our own education. We have to get our hands dirty, to figure out the material, to let it become part of us and make us better people. That is real learning."
– Isabella Hsu ('18)
Redondo Beach, California
CALENDAR
NEWS FROM THE COLLEGE