Posted: August 21, 2018
by the Most Rev. Thomas Daly
Bishop of Spokane, Washington
Homily from the Mass of the Holy Spirit (prepared text)
Convocation Day
August 20, 2018
Our Mass of the Holy Spirit this morning inaugurates a new academic year. Throughout the country, in Catholic universities and high schools, students, faculty, and administrators gather in prayer to ask God to send His Spirit to guide the learning and the living of a whole educational community. In short, we pray to grow in grace and wisdom.
Thomas Aquinas College is known as a solidly Catholic college, one that does not give in to the latest educational trends that so often find their way into the policies and curricula of other so-called institutions of higher learning. An impressive record of academic excellence and scholarly achievement warrants respect. And you are a college that truly cares, not only for the intellectual dimension of those entrusted to your care but also the spiritual, moral and social lives of young people who enter just four years out of grade school and, God willing, enter a world as informed, faith-filled, and courageous young adults.
I suspect the scripture readings for our Mass of the Holy Spirit alternate each year. The Gospel that would have been proclaimed in every Catholic Mass throughout the world, on this day, Monday of the 20th week in ordinary time, might have also been an appropriate passage for reflection to begin a school year. It is Matthew's account of the rich young man who asks Jesus, "Teacher, what good must I do to gain eternal life?" No doubt a question each one of us has asked any number of times, and one that also warrants further reflection. However, today, we just heard from St. John, who reports those very clear instructions of our Lord; "Whoever does love me will keep my word and my Father will love him and we will come to him and make our dwelling with him. … [I have told you this while I am with you.] The Advocate, the Holy Spirit that the Father will send in my name — He will teach you everything and remind you of all that I told you."
Of the four gospels, St. John gives the greatest emphasis on the role of the Spirit in the life of the believer. When Jesus meets Nicodemus, Our Lord speaks of the necessity of being born from above by water and the Spirit. "Amen, Amen, I say to you, no one can enter the kingdom of God without being born of water and the spirit." Our passage today from Chapter 14 and the two chapters that follow, known as the farewell discourses, provide us with a more developed role of the Holy Spirit in the lives of the apostles. We have just heard Jesus promise the Advocate or Paraclete, a new term for the Spirit. Sometimes, the translation given is that of "Comforter," but Scripture scholars remind us that a Paraclete does more than comfort. John's use in Greek actually is closer to the Latin for Advocate, meaning a mediator, one who stands by you in time of need, a defense attorney, you might say.
But think about it, what a lawyer does for pay, the Paraclete does for love. And what a lawyer does with no guarantee of winning, the Paraclete does with the certainty of success for those who do their part, namely, loving the Lord and keeping his word. This is the same Spirit who is the Spirit of Truth, Who, we are told in Chapter 16, guides into the truth all who hear Jesus' instructions. The Spirit does not communicate any new teaching but gives the believer insight into what Jesus had already taught. (As Fr. Pat Hartin, Scripture scholar at Gonzaga University and a retired priest of Spokane, so clearly states, "The Spirit dwells in the heart of every believer and gives insight into the relevance of Jesus' message for their lives.")
What is the message for your lives, not just those who begin your years of study as freshmen, but those who are sophomores, juniors and seniors. You can give witness to those just entering at TAC, to the importance of the friendships made during one's years here. This includes not only "friendships" as studied in your classes, the writings of Plato, Aristotle, Cicero, but those women and men whose names and lives are found in Scripture, and certainly the lives of saints. In this small setting without the distractions commonly plaguing college lives today, the so called "hook up" culture, each of you, God willing, will meet others here who care as deeply about the Lord as you do. To share in this type of healthy friendship will no doubt make the path of discipleship less daunting.
Like Matthew's Sermon on the Mount and Luke's Journey to Jerusalem, John's farewell discourses give us insight into His spirituality. Jesus' actions in the foot-washing, importance of service and love of others, and the relationship between the Father, Son, and Spirit in the context of love, give us an example of a love that must be shared.
The poet Gerard Manley Hopkins, in his homily of April of 1882, speaks of the Paraclete as one Who cheers, encourages, persuades, Who exhorts and urges us forward. A Paraclete is zealous that we should do good, and full of assurance that if we try, we can, calling us on, springing to meet us half way, "This way to do God's will, this way to save your soul!"
I hope all of you have read C.S. Lewis' book The Great Divorce. In nearly 20 years of teaching high school, the last 10 years just one senior seminar, it was the one book that I felt enabled our students to think deeply about what they must do in their lives as young adults. I say that because, if you recall from that book, the solid ones who met individuals trying to convince them if only they would admit what they did was wrong, those that could, became bright or solid, and those that did not, remained in the grey world, or worse. It was as if each encounter between the bright ones and those in the grey world were encounters with the Paraclete. They urged them to move beyond their sin of pride and to humbly admit that what they had done was wrong. Sadly not everyone got beyond their pride, and rejected the efforts of the bright ones, the solid ones, the to be a Paraclete to them, to urge them on for the salvation of their souls.
The times that we are living in our world, and with the most recent alarming revelations about evil and degeneracy in our own Church, call us to even deeper relationships with the Lord. We cannot follow Christ by ourselves; we cannot truly know Him, just with an intellectual grasp of the truths of the Faith, no matter how bright we may be and how thorough our education. He has promised us the Advocate, the Paraclete. And we, in turn, must be that for others.
At the heart of John's Gospel is love, sacrificial love. And as it is the foundation for the relationship among the Father and the Son, it is extended to us. We enter, humbly, into this relationship with the Father and Son, through belief, or more accurately seeking with a sincere heart. As you begin this year, may each of your days, bring forth a grace-filled experience of the Spirit, Who says, "This way to do God's will, this way to save your soul."
---
Receive Thomas Aquinas College
lectures and talks via podcast!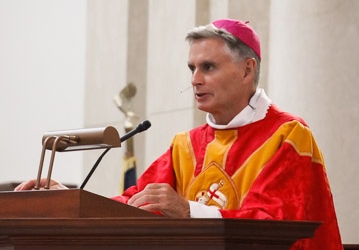 "One of the things I'm most grateful for is the attitude the College instills toward learning, an attitude of not being afraid to try something that most people would say is difficult, and instead working through it."
– Regina Sweeney ('97)
Mother of Eight
CALENDAR
NEWS FROM THE COLLEGE