Posted: February 28, 2019
Last year College Governor Berni Neal and her husband, Rob, offered to match all alumni donations made to the College on its first annual Alumni Day of Giving, up to $10,000. The alumni responded by giving nearly triple that sum.
"Clearly we need to set our sights even higher," says Vice President for Development Paul J. O'Reilly, a member of the Class of 1984.
To that end, an anonymous member of the Board has pledged to match all alumni gifts — up to $25,000 — for the Second Alumni Day of Giving, set for March 7, 2019, the anniversary of the death of St. Thomas Aquinas. "We have tremendous confidence that the alumni will achieve this goal," says Dr. O'Reilly. "And while they're at it, perhaps they can help us overtake Princeton to reclaim our title as the college where the highest percentage of alumni donate."
To participate, just complete the Alumni Giving Day Form. The anonymous governor has also generously agreed to match early-bird gifts, so there's no reason to wait until March 7. However, those who prefer to make their gifts on the actual Feast of St. Thomas, can make use of the scheduling buttons below, which will add a reminder to one's electronic calendar of choice.
"This is an extraordinary moment in the life of the College," says Dr. O'Reilly. "By opening a second campus, we are stepping out in faith, trusting that God will provide us with the means to make our program of Catholic liberal education available to more students. I hope that we alumni — who have benefitted from this program, and are indebted to all those who made it possible for us — will do all that we can to help meet the needs of our blessedly growing student body."

Add the Alumni Day of Giving to our calendar:
---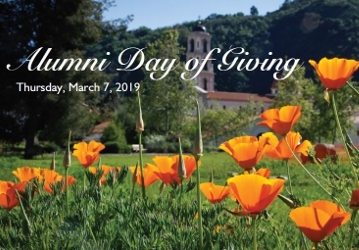 "No one here tells us what to think. We read the great books, look into them deeply, and then discuss them actively in class, which has forced me to take responsibility for my own education."
– Patrick Nazeck ('19)
Ridgecrest, California
"Thomas Aquinas is already the preeminent Catholic college in the country."
– John Cardinal O'Connor (†)
Archbishop of New York
(1999)