Posted: January 12, 2018
By the Most Rev. Carlo Maria Viganò
Apostolic Nuncio Emeritus to United States of America
January 12, 2018
Adapted transcript
"We Have a Lord, a Good One. Let Us Follow Him."
Dear brothers and sisters, you give me unexpected joy to be with you today for the celebration of this Eucharist at this college dedicated to St. Thomas Aquinas.
As you know, I have been spending almost five years in this great country as the representative of the Holy Father. And I heard many, many times people speak about your college. And, of course, I was waiting for the occasion to come, to see this great institution which is very well known in all the country and beyond. And today, by chance, for my visit in California to some friends — especially to Bishop Vann in Orange and also to the Norbertine Fathers, being their own guest — that gives me the opportunity to stay with you and to be with you for this celebration.
You call this a "chapel," but this really is almost a basilica! It is really a wonderful church which is so, so inspiring for the style, so beautiful. Also for this altar, which recalls for me St. Peter's baldacchino.
I know that you have been given here — you are receiving, you are taking part of your formation — something which is really select, personal, and in some ways unique in the United States and maybe also in many countries of the world. So that is making me make a link to the first reading, when the people of Israel are asking for a king to the prophet Samuel. It seems, in our days, that to desire to have a leader who is able to be a guide for your life or your country, is quite a normal thing. But the meaning here is quite different, because the people of Israel were a selected people with a unique mission: to prepare for the coming of the Savior, which we celebrated just a few days ago. So they have a king. They were expecting a king; prophets were given to them, to lead. Anybody who was oriented would respect the real king.
But here they are, asking for a king. Why were they asking for a king? Because in some way they were starting to think that they were designed to have something similar to the other people. But they weren't like the other people; they were the selected people. So it is making me to think that, in some way, any kind of privilege we receive, any kind of particular vocation we have and gift we receive — like you in this college for this education that is unique — then is also given to you a particular mission and a responsibility. We have already a king, a King of Kings. Always, as St. Ambrose would say, "I have a Lord, and He is a good one. I am not looking for another." And this Lord is present in our life, and in our souls. He is the teacher every day, that we may listen to the inspiration of the Holy Spirit. So this is something that should be always alive and present every day, every morning when we start a new day. We have a Lord, a good one. Let us follow Him.
From the second reading I will tell you just what I believe in some way is the experience of every priest. I remember when I was a young priest, I had been asked to go to hear confessions, and that was in fact at the Cathedral of Pavia. Pavia is a small town on the southwest of Milan. It is an old town, with one of the first universities that was created in Europe, together with Bologna, together also, of course with the Pontifical University, Rome, and Paris, and so on. But the experience of the first confession for a priest: I remember that, before giving the first absolution, I was almost blocked, paralyzed — "Look at my hands. What I have been asked to do?!" Because giving absolution is a miracle. And each one of us, when we are receiving absolution in the confession, receives the most powerful miracle that we may receive, the miracle of mercy from the Lord.
In this Gospel, in a so-evident way, Jesus is asking the Scribes and Pharisees what is in some way more difficult: to forgive a sin or to ask this paralytic to stand up and walk? Receive the absolution from the Lord. It is a grace that is invisible, but is a very strong experience for each one of us when we know that. The mercy of God is so powerful that it is able to renew us as a new creature. It is like when making the administration of a baptism, looking to a baby, we can see, and almost touch, the innocence of a baby, the new creature that has received the grace of God and, like a new creation, has been made. So does that happen also when we receive the absolution from sins form the Lord. The priest is acting in the name of the Lord.
So two things I want to tell you: The great gift you have received to be called, to receive this education, so extraordinary in this institution, and also in which you may experience the grace of God to receive any time a new gift to be a new creature, so as to accomplish your mission, and to recognize all the time that we just have one Lord, a good one, the most good one — to be in love with Jesus, to be able to follow Him as close as possible. Try to find a moment of silence in our life in which we may listen to the voice of the Spirit, so we may orient it, all the time, your life to Him.
May God bless you. 
Streaming / downloadable audio:
---
Receive lectures and talks via podcast!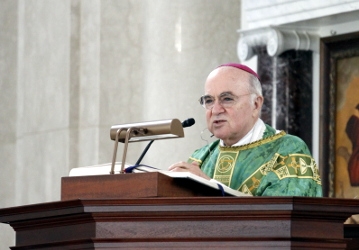 "There's a joy for life here you don't get in most places, a sense of purpose, a sense of love and fellowship bound up in our common cause of seeking the truth."
– Isaac Cross ('19)
Leominster, Massachusetts
"I am deeply touched by the quality of the intellectual and spiritual formation that you offer. The study of philosophy should lead to a conviction that truth can be known, articulated, and defended. Your college shows that this is possible, and on a high level!"
– Rev. Wojciech Giertych, O.P.
Theologian of the Papal Household
CALENDAR
NEWS FROM THE COLLEGE