Posted: December 6, 2017
By God's grace, Thomas Aquinas College appears to have emerged unscathed from the Thomas Fire. Although there has been extensive damage to trees and brush, as well as minor damage to the coffee-shop patio, no major structures have been harmed. 
Throughout these last few days, the community has been heartened by the countless prayers and offers of help that have come from all quarters — including Twitter. Below are just a sampling of many gracious and generous tweets.
From fellow Christian schools and colleges:
Please join us in praying for those impacted by the fires currently sweeping Southern California, including our friends at @TACollege. #ThomasFire #RyeFire #CreekFire

— Biola University (@biolau) December 6, 2017
Thoughts and prayers are with those affected by recent fires and natural disasters, including @TACollege. https://t.co/atllciG5AF

— Benedictine College (@BenedictineKS) December 5, 2017
Please join us in praying for the safety of the students, faculty, and staff of @TACollege. https://t.co/Yblf3sevz2

— Christendom College (@ChristendomVA) December 5, 2017
Our prayers are with you all and for the preservation of your beautiful campus.

May Almighty God, through the intercession of his most Blessed Mother and St. Thomas Aquinas, preserve your campus and protect all those working so hard to control the fires. https://t.co/kPM65gKyXl

— Franciscan U (@FranciscanU) December 5, 2017
Continue to pray for our friends at Thomas Aquinas College https://t.co/jm8pCsPFCh

— Holy Apostles C&S (@HolyApostlesedu) December 5, 2017
Let us pray for the safety of @TACollege and for all those affected by the #ThomasFire. Mark 4:39 #VenturaFire

— Servite High School (@ServiteHS) December 5, 2017
Please keep the students, faculty, and staff of @TACollege in your prayers today, as the #ThomasFire rages around them. https://t.co/caljkhgAxp

— WY Catholic College (@WYOCathCollege) December 5, 2017
From alumni:
Please say a prayer for the safety of students and faculty at my alma mater @TACollege and all those in the area https://t.co/aNupczuCr0

— Lauretta Brown (@LaurettaBrown6) December 5, 2017
Praying so hard right now. I heard about the #ThomasFire right after it started because I'm an alumna of @TACollege. I have many friends in the area and many friends whose children attend there. Unbelievable how it has grown. Please pray for all affected & the firefighters, esp.

— Caroline (@AnchorRoad) December 5, 2017
Concerned that fires are threatening much of SoCal including my alma mater, @TACollege. Prayers for all involved.

— Edmund Dean (@edofmund) December 6, 2017
The "East Coast" Goyette's are praying for our "West Coast" cousins and their larger TAC family!

— Richard Goyette (@itchyrichy) December 6, 2017
Deo gratias!!!! Prayed, praying, will pray! Thanks for the update beloved alma mater https://t.co/bE4lnTExAU

— Maria Immaculata (@mariainyambu) December 6, 2017
My Alma Mater. Please pray. https://t.co/CBzzZxNA7R

— Rich King (@RuggerBaba) December 6, 2017
#Thomasfire rages only five or so miles away from my Alma mater, @TACollege #CaliforniaWildfires pic.twitter.com/ZdkEHNmKf6

— Mairead McArdle (@JohnsonHildy) December 5, 2017
Pray for my Alma Mater! https://t.co/kpeXkrXhbZ

— Natalie (@LifeCanadaOrg) December 6, 2017
Please keep the Ventura, Calif. area & @TACollege in your prayers...unbelievable how horrible this fire is. https://t.co/ift636lhPx

— Katrina Trinko (@KatrinaTrinko) December 5, 2017
Forrest fire near my Alma Mater @TACollege. My little brother, a junior, was evacuated with the rest of the students. pic.twitter.com/ZMDk2U3oHP

— Pater Edmund (@sancrucensis) December 5, 2017
We are praying and our Diocesan Bishop is praying!

— Margaret Wall (@Margaret_Wall) December 5, 2017
From parents:
Humbled by the prayers from family, friends, colleagues and complete strangers for my son and his @TACollege community. While I rejoice that he is well, I am heartbroken at the devastation their neighbors in Ojai and Santa Paula have endured. #thomasfire

— Laura Roland (@LauraKRoland) December 6, 2017
My daughter attends @TACollege please pray for her and all the students, staff, and faculty. Pray also for all the buildings on campus. https://t.co/9AJ4FlRnxN

— lumasimms (@lumasimms) December 5, 2017
We have my daughter, a TAC student, and two of her friends safe at our house in Orange County, and we are happy to take many more. TAC community please reach out if we can be of help. #ThomasFire @TACollege https://t.co/JB1yzXOCbN

— Lisa VanDamme (@lisakvandamme) December 5, 2017
And from friends throughout the Catholic media:
Praying for the students, faculty and staff @TACollege. #ThomasFire https://t.co/1dpFenmF7w

— Catholic News Agency (@cnalive) December 5, 2017
Join us in praying for the safety of the Ventura County community, especially those evacuating @TAcollege tonight.#GrottoPrays #ThomasFire

— GrottoNetwork (@GrottoNetwork) December 5, 2017
Praying for all the good people at @TACollege This is very frightening. Please be careful. We need you folks.

— Michael Barber (@MichaelPBarber) December 5, 2017
Acted at the first sign of danger - proving TAC is smart not just academically! https://t.co/mNeiGzg7w2

— Tom McArdle (@MacArdghail) December 5, 2017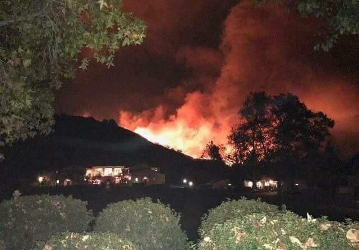 "There's a joy for life here you don't get in most places, a sense of purpose, a sense of love and fellowship bound up in our common cause of seeking the truth."
– Isaac Cross ('19)
Leominster, Massachusetts
"The Catholic Church may be justly proud of this unique college of Saint Thomas Aquinas on account of the high quality of its professors and its cultural contribution through philosophy and theology."
– Giovanni Cardinal Lajolo
President Emeritus of the Governatorate
Vatican City State
CALENDAR
NEWS FROM THE COLLEGE