There were no afternoon classes on Wednesday, so students and prefects used the time for a program-wide volleyball tournament. There were 10 teams in all, each with six to eight players of varying skill and experience levels. It was a double-elimination tourney, and the winning squad then moved on to challenge a team of the College's tutors plus one "ringer" — Summer Program Chaplain Rev. Sebastian Walshe, O.Praem. ('94). It was hard-fought, best-of-three match, but the tutors eked out a close win in the first game, and then pulled away for a decisive victory in the second.
Afterward the tutors and their families joined with the students for a barbeque dinner on the lawn between Sts. Peter and Paul Hall and St. Bernardine of Siena Library. Next, it was on to study hall, where the students finished passages from Genesis and Kierkegaard, and looked ahead to upcoming readings by Tolstoy, Fabre, and Pascal.
Wednesday night's Rosary included a special blessing — Eucharistic adoration in Our Lady of the Most Holy Trinity Chapel. Prior to exposition, Fr. Sebastian gave a beautiful talk about how Jesus left us not merely a photograph by which to remember Him, but his real, physical presence in the form of the Blessed Sacrament. Throughout the adoration period, Fr. Sebastian and Chaplain Rev. Paul Raftery, O.P., manned the Chapel's two confessionals, hearing students' confessions and offering God's absolution. It was a time of great peace and grace!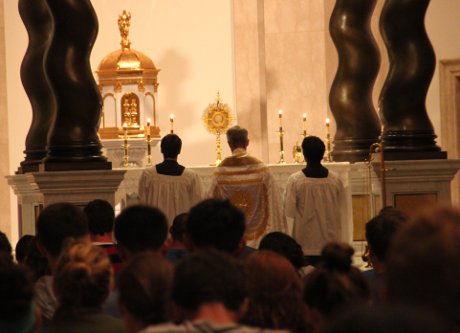 The evening then concluded with a dance lesson in preparation for the upcoming, end-of-the-program soiree. Prefect Dan Selmeczy ('08) taught some basic merengue and swing steps to the students, whom he called "some of the best" he's ever seen. It seemed that everyone attended the class — and stayed to continue dancing afterward.
At curfew the men and women returned to their residence halls for pretzels, mustard, and good conversation. Then it was off to bed!