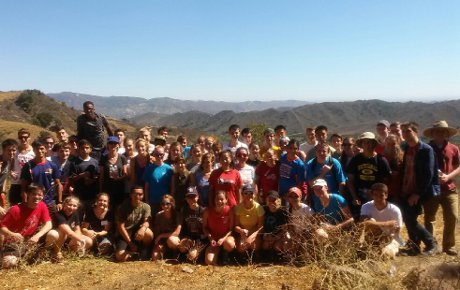 Students made the most of Tuesday afternoon's recreation period: Some played ultimate Frisbee or soccer; others prepared for the upcoming volleyball tournament, the winners of which will get to compete against the tutors; and some 50 hikers explored the surrounding area, trekking up to the "painter's shack" in the hills above campus.
After dinner was study hall, where students read passages from Genesis, Kierkegaard, and Pascal in anticipation of their upcoming classes. They also learned, by way of an announcement from the prefects, about a dramatic reading of Oscar Wilde's The Importance of Being Earnest, to be held Friday night. Auditions will take place this evening, and the aspiring thespians are busily preparing.
When study hall was over, the group found its way over to St. Joseph Commons for games and iced beverages at the campus coffee shop, complete with impromptu piano and guitar performances. At curfew the men and women returned to their respective residence halls for courtyard bonfires. The men chatted with Fr. Sebastian, and the women sang songs around the fire, until lights out at 11:30.