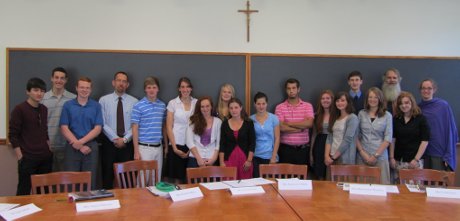 Thursday morning found the students discussing a reading from Christian existentialist Søren Kierkegaard's Fear and Trembling. The work offers several scenarios of the story of Abraham in an attempt to determine whether or not his faith seems rational. Conversations were spirited, and the students were intrigued by the question of what faith is and what it entails, especially as modeled by our father in faith.
After Mass, study hall, and lunch, the students, prefects, chaplains, and a few tutors boarded three coach buses for Los Angeles and the Getty Museum. There they viewed world-renowned paintings, ancient Greek and Roman sculptures, illuminated manuscripts, and other works of art, including some by Monet, Van Gogh, and Renoir, as well as sketches by Da Vinci and Michelangelo. Students also found time to take plenty of pictures around the museum's beautiful gardens, fountains, and outdoor patios.
After dinner at the Getty, the group went to the Hollywood Bowl — the L.A. Philharmonic's outdoor concert hall — to enjoy a performance of Sibelius' Violin Concerto in D Minor and Dvorák's Symphony No. 9 "From the New World." Listening to the beautiful classical music in the Hollywood Bowl's outdoor amphitheater was a perfect way to end a day experiencing some of the culture offered in the greater Los Angeles area..