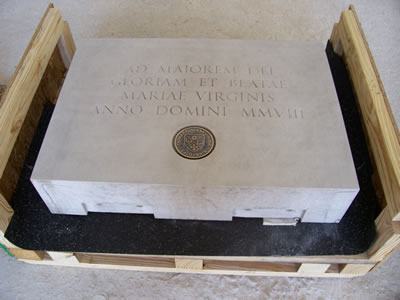 SANTA PAULA, Calif.-On Wednesday, September 3, 2008, the cornerstone of Thomas Aquinas College's newest building, Our Lady of the Most Holy Trinity Chapel, will be blessed by Pope Benedict XVI at the Vatican. In attendance will be chairman of the board of governors, Maria Grant; her husband and the executive director of the Dan Murphy Foundation, Richard Grant; members of the board of governors and their spouses; and president of the college Dr. Thomas Dillon. The blessing will occur just after the Holy Father's Wednesday audience at St. Peter's Basilica.
Says Dr. Dillon, "It will be a singular honor to present our chapel's cornerstone to His Holiness Pope Benedict XVI, and we will be most grateful for his blessing. To have had Pope John Paul II's blessing on this chapel project as it began, and now our present Holy Father's blessing as it nears completion, is a special grace."
Transportation and handling of the approximately 700-pound limestone cornerstone will be under the direction of Excel, a division of DHL; a generous donation from one of the college's benefactors will cover related charges.
In the evening following the blessing of the cornerstone, a dinner celebration with members of the board of governors will be held at Residenzia Paulo VI with His Eminence Cardinal Francis Arinze, Prefect of the Congregation for Divine Worship and the Discipline of the Sacraments, and Cardinal Francis Stafford, Apostolic Peniteniary, as the guests of honor.
Set inside the cornerstone will be a capsule containing a list with the names of all the benefactors to Our Lady of the Most Holy Trinity Chapel-more than 2,300 to date. The cost of this unique building-traditional in design, but modern in materials and techniques-is $22 million. Please visit the college's website to view design drawings, current photos, and an 8-minute "virtual tour" DVD, by clicking here.