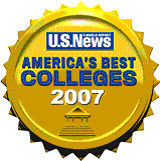 SANTA PAULA, Calif.—On August 21st, the "America's Best Colleges" edition of U.S. NEWS & WORLD REPORT will be available on newsstands across the country and Thomas Aquinas College once again finds itself counted among the top performing liberal arts colleges.
U.S. News & World Report employed a multitude of factors such as cost, graduation rates, and up to 15 other indicators of academic excellence, including high SAT scores, in compiling its "Best Liberal Arts College" list. Of the top one hundred liberal arts colleges highlighted, Thomas Aquinas College is ranked 73rd, one of only four Catholic liberal arts colleges to break into the top one hundred.
In U.S. News' "Great Schools, Great Price" segment, Thomas Aquinas College placed 36th, and is the only Catholic institution ranked in this category. A College's standing here is determined by several criteria - a school's overall score in the America's Best College survey, the net cost to a student receiving the average need-based scholarship or grant, percentages of undergraduates receiving financial aid, and the average percentage of costs covered by that financial aid.
In a ranking important to prospective students and their parents, Thomas Aquinas College was in the top twenty five liberal arts colleges where graduates incur the least amount of debt. Finally, in the category of "Highest Proportion of Classes under 20 Students," Thomas Aquinas College placed first with 98%, a statistic that speaks to the College's continued allegiance to its curriculum of great books and the seminar discussion structure of the Discussion Method. Again, Thomas Aquinas College was the only Catholic institution singled out in these last two categories.
The 2007 US News & World Report edition of "America's Best Colleges" is further evidence that the Thomas Aquinas College's commitment to the great books, a demanding curriculum, and the belief that faith and reason are complementary, continues to flourish.