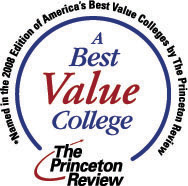 SANTA PAULA, CA—Thomas Aquinas College is the nation's #5 best value among private colleges according to The Princeton Review. The New York-based education services company names the school on its ranking list of "Top 10 Best Value Private Colleges" in the new 2008 edition of its book, America's Best Value Colleges (Random House / Princeton Review, $18.95), which goes on sale Tuesday, April 24, 2007.
From the 650 colleges and universities it researched, the guide chose to feature 165 institutions for their excellent academics, generous financial aid packages and/or relatively low costs of attendance. Thomas Aquinas College is the only Catholic institution in the country ranked in the "Top 10 Best Value" category, and it is one of only two private California institutions to make the list, along with Scripps College. The company today posted a list of the schools in the book at www.princetonreview.com/college/research/bestvalue/bestvalue.asp.
In the narrative profile on Thomas Aquinas College, The Princeton Review's editors commend the school saying, "This isn't your standard college…. Students take their faith and their intellectual life very seriously…. The College's curriculum focuses on the study of the Great Books….that have shaped the development of Western thought: Aristotle, Homer, Euclid, T.S. Eliot, Albert Einstein, and, of course, St. Thomas Aquinas himself." They go on to say that "Some types of financial aid available at other schools are not available here because the college receives no federal campus-based funds or contracts. To compensate, the college has its own aid program funded through generous contributions from benefactors," and students are "overall, very satisfied with both the high quality of the education and the level of assistance they receive to help cover it."
The Princeton Review selected its "best values" based on data it obtained from administrators at more than 650 colleges during the 2005-06 academic year, and its surveys of students attending the schools. "We considered over 30 factors to identify our 'best value' colleges," says Robert Franek, The Princeton Review's Vice President for Publishing. "They covered four areas: Academics, Tuition GPA (the sticker price minus average amount students receive in scholarships and grants), Financial Aid (how well colleges meet students' financial need), and Student Borrowing. The 90 public and 75 private colleges we chose for this edition offer a terrific education, plus they have impressive records of meeting students' needs for financial aid. We highly recommend them as America's best college education deals for 2007."