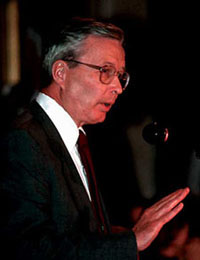 (SANTA PAULA, Calif.) - November 4, 2010 - It was with a heavy heart that President Michael F. McLean announced to the Thomas Aquinas College community of students, faculty, alumni, friends, and benefactors that a senior tutor of the college and one of its founders, Marcus R. Berquist, had passed away at his home in Ojai, California, after a brief illness in the early hours of Tuesday, November 2, 2010, the Feast of the Holy Souls. In his announcement, President McLean noted that Mr. Berquist was surrounded by his family when he passed and that he had "died a holy and peaceful death, having been anointed by (college chaplain) Fr. Buckley on Monday afternoon." Dr. McLean went on to say that, "Mr. Berquist was a mentor to generations of students, alumni, and faculty. He was one of the principal authors of the college's founding document, A Proposal for the Fulfillment of Catholic Liberal Education,and a renowned disciple of St. Thomas and Aristotle. He was a deeply faithful Catholic whose piety and holiness inspired all who knew him."
Born in St. Paul, Minn., in 1934, to Gertrude Mary Burke Berquist and Reno Victor Berquist, Marcus Berquist was the second of three sons, all of whom became teachers of philosophy. He received a B.A. at the College of St. Thomas in St. Paul, Minn. and a Ph.L. at the Université Laval in Quebec, Canada. He taught in the Integrated Curriculum at St. Mary's College of California, in the honors program at the University of Santa Clara, and at the University of San Diego, before becoming one of the founders of Thomas Aquinas College, in 1971. He dedicated the balance of his career to Thomas Aquinas College, the welfare of which remained at the center of his concern. He continued to serve as a tutor there until prevented from doing so by the brief illness that led to his death. He also served for the past nearly 40 years as a member of the college's Board of Governors.
Mr. Berquist was married in 1975 to Laura Marie Steichen Berquist, herself a graduate of Thomas Aquinas College ('75), and was an invaluable advisor to her Mother of Divine Grace Distance Learning program. Marcus and Laura were jointly awarded the 2009 Paideia Prize for Lifetime Contributions to Classical Education.
Reflecting on his long association with Marcus, Thomas Aquinas College Founding President Ronald P. McArthur, Ph.D., said, "From the time, 50 years ago, when I first met him, Mark Berquist was the measure of my own endeavors as a Catholic teacher. Where others quoted the great philosophers and theologians, his whole intent was concentrated on the realities of which they spoke. While others of us flailed around with general perceptions, he pursued the truth at a level I would have never considered possible had I not seen it in him. He understood what we all too often but believed, and so he was the anchor that kept us from drifting from the winds of change that bedevil the un tethered intelligence. I could not have conceived of being a part of a new college without knowing that he was one of us, that we could rely on him to keep us securely grounded in the study of Aristotle and St. Thomas, without which our college could never have achieved its purpose. He is, in my mind, irreplaceable, but he has been so for so many years that though I, with all the others in our community, bemoan his death, I know that he will continue to live as long as Thomas Aquinas College - so much the result of his own life and example - shall itself remain in existence. I close my remarks with this ultimate testimony: His faith in God and the Church were as simple and direct as that of a holy and devout peasant. He would have had the same faith had he been unable to read or write - perhaps the greatest lesson of all."
The College's Dean, Dr. Brian T. Kelly commented on the role Mr. Berquist played in the college's intellectual life saying, "I was very sad to hear of Mark's passing. He was an intellectual leader of this community. Just recently, when we decided to articulate the goals of our philosophy courses, there was no question whom we would ask. It had to be Mark. He cared deeply about the well-being of this community and did everything he could to promote our commitment to Catholic wisdom. He was always willing to teach in the summer tutor program and to take an overload of coursework when needed." Like Dr. McArthur, Dr. Kelly was quick to add, "Although extremely intelligent and accomplished, Mr. Berquist impressed me even more by his quiet example of humility and love for God and all of His works."
Dr. R. Glen Coughlin has been a tutor at the college for the past 25 years and was also a student of Mr. Berquist in the late 1970s. When asked for his impressions of his one-time teacher, Dr. Coughlin said, "I have always considered Mark to be the teacher to whom I owe the most, and I owe much to many. Most significantly I learned from him to think carefully, to proceed one step at a time, to identify premises which are certain and to build on them slowly, deliberately and therefore confidently. I also learned by his example that one should not take St. Thomas merely as one teacher among others, but as, after Christ and the Church, the teacher par excellence. His discipleship to St. Thomas was a model for all of us. Mark's humility in the face of truth was unbounded. He never thought much about himself, but always thought much about what his teachers and interlocutors said, and always, and above all, about the truth. His contributions to the intellectual and moral character of the college were formative in the most fundamental ways. His intellectual leadership has been central to the college from the beginning."
Mr. Berquist is survived by his wife, along with their children, all of whom are graduates of Thomas Aquinas College: Margaret Berquist Hayden ('98) (Steve), Ojai, CA, Theresa Berquist Mastroieni ('01) (Mark), Campbell, CA, John Charles Berquist ('01) (Michaela Robinson), Front Royal, VA, Rachel Mary Berquist ('04), Washington, D.C., James Norman Berquist ('08), Dallas, TX, Richard Paul Berquist ('10), Ojai, CA; grand-children Gwynith Marie Morgania Hayden, Peter George Carl Hayden, and Lena Mae Avalon Hayden of Ojai, CA, and Thomas Joseph Berquist of Front Royal, VA; brothers Richard Harlow Berquist, St Paul, MN, and Hugo Duane Berquist, Shrewsbury, MA, twenty-five nieces and nephews, and a large extended family. He was preceded in death by his parents.
Funeral arrangements are as follows:
A rosary will be recited at 7:30pm on Friday evening, November 5, 2010, in the college's chapel of Our Lady of the Most Holy Trinity.
A funeral Mass in the extraordinary form will be celebrated on Saturday morning, November 6, 2010 at 9:00 a.m., also in the college chapel.
Interment will be immediately after at Pierce Brothers Santa Paula Cemetery.
Luncheon will follow in St. Joseph Commons on the college campus, during which the three remaining founders of Thomas Aquinas College will make some remarks in memory of their friend and colleague.
The Berquist family requests that in lieu of flowers donations be made to Thomas Aquinas College at 10,000 Ojai Road, Santa Paula, CA, 93060.