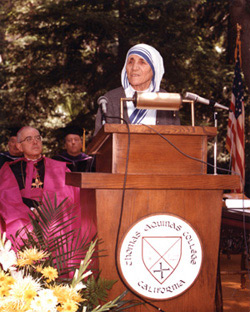 (SANTA PAULA, Calif.) -August 23, 2010- As the world celebrates the 100th birthday of Bl. Mother Teresa on Thursday, August 26, Thomas Aquinas College will mark the day with a memorial Mass in her honor and by publishing videos from her historic visit and Commencement Address at the Santa Paula campus in 1982.
"We will long remember the honor of Bl. Mother Teresa's visit to Thomas Aquinas College," says President Michael F. McLean, who notes that the saintly foundress of the Missionaries of Charity visited only three colleges during her 1982 trip to the United States. "We join the faithful everywhere in thanking God for her example of humble service to 'the poorest of the poor,' in whom she saw Christ in 'His most distressing disguise.'"
To commemorate the occasion, the College will offer a special Mass in Bl. Mother Teresa's memory at 11:30 a.m. in Our Lady of the Most Holy Trinity Chapel. Photos from Bl. Teresa's 1982 visit to the college's campus will be placed within the sanctuary as well as in the loggia just outside the Chapel. Holy cards and transcripts of her 1982 Commencement Address will also be made available. The Mass is open to the public.
Online, the College will be posting videos from Mother Teresa's Commencement Address and from an on-campus press conference she gave that day. The videos will be available at www.thomasaquinas.edu, where they will remain prominently displayed through Bl. Teresa's Feast Day, Sept. 5.
Thomas Aquinas College: Commemoration of the 100th Birthday of Bl. Mother Teresa
Memorial Mass:
Our Lady of the Most Holy Trinity Chapel
Thomas Aquinas College
10,000 Ojai Rd.
Santa Paula, CA 93060
Thursday, Aug. 26. 11:30 a.m.