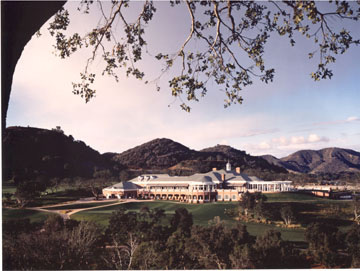 Sherwood Country Club in Thousand Oaks, California Santa Paula, Calif.— On Monday, May 21, 2007, the Board of Regents of Thomas Aquinas College will host The Inaugural Thomas Aquinas Golf Classic at the world-class Sherwood Country Club in Thousand Oaks, California. The Golf Classic will have a "bramble" format with awards given for individual low gross, individual low net, the low net team, individual high gross and team high gross. There will also be men and women's long drive prize opportunities as well as two hole-in-one and two closest-to-the-pin awards.
The tee time for the event will be 11:30 a.m., and the day will conclude with refreshments, a buffet dinner and an awards ceremony. The cost to play is $1,000 per person, and the proceeds will go to the Student Scholarship Fund at Thomas Aquinas College in Santa Paula, California.
For more information or to register, please contact Hope Martin at 818-449-0276 or hmartin@sgjb.com.