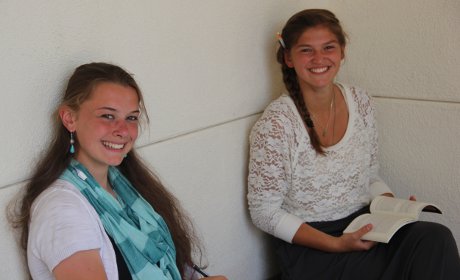 At Wednesday afternoon's recreation period, students could be seen playing various sports: A tennis tournament was under way on the campus courts, with the winner to be determined Thursday. Triads of young men formed squads and practiced for Thursday's 3-on-3 basketball tournament. Volleyball teams clashed on the sand courts. And soccer enthusiasts prepared for Friday's match pitting the students against the prefects.
The sporting events were followed by a brief dance class in anticipation of Friday's soiree. Then the College bookstore briefly opened its doors to a rush of student customers looking to pick up some mementos of their nearly finished time on campus. From there it was dinner and study hall, with students once again being excused early to work on their Euclidean propositions. The students remain as smitten with Euclid as ever, boasting of the number of alternative proofs they have been able to devise. One young woman even used her newfound geometrical skills and a necklace to construct a compass in her residence hall!
Following the nightly Rosary in the Chapel, students made their way over to the coffee shop for root-beer floats and a pint of theology, courtesy of Rev. Sebastian Walshe, O.Praem. ('94). Having collected questions beforehand, Fr. Sebastian addressed students' queries on a range of topics that included faith, morality, natural law, and the ways grace builds upon nature. He also allowed for follow-ups, leading to a lively and thoughtful conversation.
At curfew time, the students returned to the residence halls for a wide array of snacks — chips, salsa, guacamole, soft pretzels and, in the women's hall, a birthday cake for prefect Maggie Conklin ('17) — and nightly consecration. Fr. Sebastian paid visits to both the men and the women, answering more questions about the Faith by the courtyard fire pits.
With that, Wednesday drew to a close as, sadly, the Summer Program will all too soon …