Following Saturday night's barbeque dinner was Open-Mic Night, a dazzling display of the great talent to be found among this year's students! Each performance was beautiful, but for comedic value alone, prefects Martin McCann ('16) and Patrick Nazeck ('19) stole the show with their re-enactment of the Bing Crosby and Danny Kaye "Sisters" scene from White Christmas.
Afterward students gathered in front of the Chapel for a Rosary procession to the Lourdes Grotto, which prefects had prepared ahead of time with candles. Upon arriving at the grotto and completing the Rosary, the group fell silent, deep in prayer. The silence only broke several minutes later, when the students headed back toward the upper campus, singing hymns along the way.
In the remaining time before curfew, students returned to St. Joseph Commons for a movie, Cinderella Man.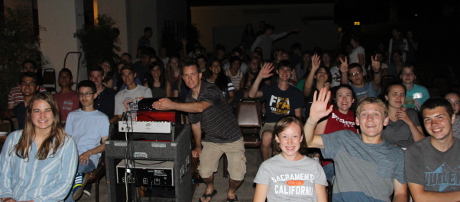 Check in Monday for photos from Sunday's trips to the beach and Santa Barbara!