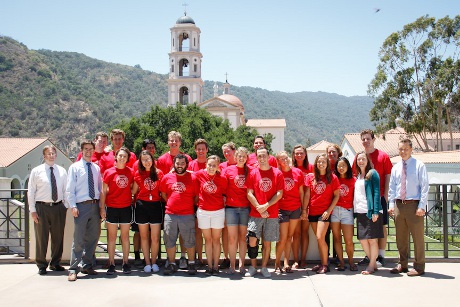 The 2016 Summer Program Team
This year's prefects have arrived on campus, and they are working with the Admissions staff on last-minute preparations for the 2016 Summer Great Books Program for High School Students. They are readying rooms in the residence halls, distributing books, and setting up for the opening picnic.
On Sunday they will welcome 131 students from 26 states and 7 foreign countries — Argentina, Belgium, Canada, France, Great Britain, Spain, and the United Arab Emirates! Starting in the morning, the prefects will be at Los Angeles International Airport, ready to greet arriving students and bring them to campus. They will be wearing their  bright red T-shirts, so they should be easy to spot!
Parents and friends, you can get regular updates and photos from this year's program by periodically checking in at thomasaquinas.edu/summerblog, or following the College on Facebook or Twitter.
As you can see, the prefects are excited to get the program under way!