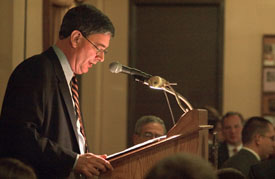 Papal biographer, George Weigel, addressed the College's Board of Governors at their annual retreat. Santa Paula, California — During the weekend of October 28-30, George Weigel was the guest speaker at Thomas Aquinas College's annual retreat for the members of its board of governors. A senior fellow at the Center for Ethics and Public Policy, Weigel is one of America's leading commentators on religion and public life and the official biographer of Pope John Paul II. Published in 1999, Witness to Hope: The Biography of Pope John Paul II became a New York Times bestseller and has been translated into at least twelve languages.
On Friday, October 28, 2005, Weigel joined the student body, faculty and members of the board of governors of Thomas Aquinas College for a formal dinner on campus. He spoke to them afterwards of the premium John Paul II placed on the Catholic intellectual life, pointing to the fact that it was he who had commissioned the Catechism of the Catholic Church, a great work of reason about doctrines of the Faith. Weigel went on to laud Thomas Aquinas College for its conviction, in the face of prevailing skepticism, that truth can be known by the human mind; he described the Catechism similarly, saying it is "a ringing affirmation of the human capacity not only to grasp the truth but to be grasped by the Truth, Who is God the Father." In further explaining that John Paul II claimed the intellectual life ought to make us "more the human beings that God created us to be," Weigel said, "Thomas Aquinas College knows this -- that the life of the mind involves the spiritual life as well, and that is why I have always thought of this institution as a college in the image and likeness of John Paul II."
The following evening, Weigel addressed a more intimate gathering of board members and senior administrators of the Catholic college. He spoke chiefly of his newly-published book, God's Choice: Pope Benedict XVI and the Future of the Catholic Church, and presented his guests with personalized copies of the book.
About George Weigel
A senior fellow at the Center for Ethics and Public Policy, Weigel is the author or editor of eighteen books, including: The Courage to Be Catholic; Letters to a Young Catholic; and The Cube and the Cathedral: Europe, America, and Politics Without God. His latest work, entitled God's Choice: Pope Benedict XVI and the Future of the Catholic Church, has just been published by Harper Collins. Weigel also contributes numerous essays, op-ed columns, and reviews to major opinion journals and newspapers across the United States, and has appeared on numerous network and cable television programs as well as radio discussion programs. He is a consultant on Vatican affairs for NBC News. Weigel's weekly column, The Catholic Difference, is syndicated to sixty newspapers around the United States.