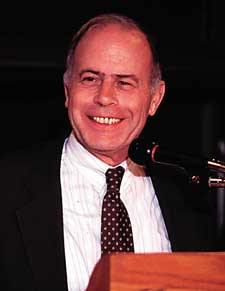 SANTA PAULA, CA - In the wake of President Thomas E. Dillon's tragic death in a car accident in Ireland on April 15, 2009, the chairman of the board of governors of Thomas Aquinas College, Maria O. Grant, consulted Monday morning with the executive committee of that board concerning the appointment of an interim president for the 4-year, Catholic college. With the unanimous support of the executive committee members, Mrs. Grant announced her appointment of the College's Vice President for Finance and Administration, Mr. Peter L. DeLuca, as interim president.
In a statement yesterday, Mrs. Grant said, "Mr. DeLuca is a founder of the College, completely committed to its mission, and already deeply involved in the daily running of the school. I have every confidence that he is ready and able to take immediate charge of the affairs of the College. I know that the faculty, students, and staff of the College will give him their full cooperation and support." Mrs. Grant added that she would shortly initiate the process whereby a new president will be appointed.
Commenting on his appointment, Mr. DeLuca said, "I appreciate the confidence the board has placed in me and will do all in my power to protect and preserve the College until a new president can be selected."
PETER L. DELUCA III is treasurer and vice president for finance and administration of Thomas Aquinas College. One of the founders of the college, he has been a member of the Board of Governors since 1969 and of the teaching faculty since 1971. He has also served as senior vice president and vice president for development. A graduate in economics at St. Mary's College of California, Mr. DeLuca served as western director and national director of the Intercollegiate Studies Institute. He then worked as assistant to the president of Grant Oil Tool Co. and pursued graduate studies at the University of Southern California.