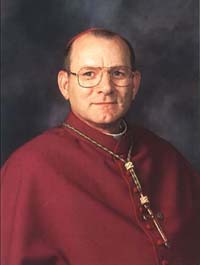 Bishop Robert Francis Vasa of the Diocese of Baker, Oregon will preside over the College's 35th convocation. Santa Paula, California — On August 22, Most Reverend Robert Francis Vasa from the Diocese of Baker, Oregon will preside over the historic 35th convocation at Thomas Aquinas College. For the first time in its history, the school will enroll 350 students - the maximum enrollment at which the college has aimed since its founding in 1971.
Explains dean of the college, Michael McLean, "There are no lectures here. Instead, faculty members employ the Discussion Method in classroom discussions about the Great Books. This kind of learning requires a small, intimate community of friends in which students feel comfortable enough with each other to take an active part in their own learning, and faculty are easily accessible to the students. The college, therefore, has only very slowly increased its student body. And though we have had a waiting list in recent years, we will not grow beyond this maximum."
That same measured and steady approach to growth is manifested on the campus itself in the beautiful new residence halls that have recently been erected and the current ground-breaking activity for Our Lady of the Most Holy Trinity Chapel. "With our full complement of students, the campus will really come to life," says Dean McLean, "And this year we're happy to welcome a new member of our teaching Faculty, Mr. David Arias." Mr. Arias attended Thomas Aquinas College for a year after receiving a B.A. in Theology from Loyola Marymount University in Los Angeles. He also holds an M.A. in Theology from Loyola, and an M.A. in Philosophy from the University of St. Thomas in Houston; he is currently completing a Ph.D. in Philosophy from the University of St. Thomas. On the day of the convocation Mr. Arias will make a profession of faith and take an oath of fidelity.
Convocation will begin with Bishop Vasa as the main celebrant of and homilist at a Mass of the Holy Spirit; a matriculation ceremony will follow at which students will be officially welcomed by the faculty. President Thomas E. Dillon will then formally open the school year. Dr. Dillon looks forward to the event saying, "This is a milestone year for the College, and we are deeply touched and grateful for Bishop Vasa's presence."
Bishop Vasa is a native of Lincoln, Nebraska where he served the Church for almost twenty-five years. In Baker, he has demonstrated profound pastoral gifts with important letters such as "Giving Testimony to the Truth," an instruction to the lay ministers of his diocese on the indispensable need for fidelity to Catholic teaching.
About Bishop Robert Francis Vasa A native son of Lincoln Nebraska, Bishop Robert Francis Vasa was ordained for the diocese of Lincoln Nebraska on May 22, 1976. In 1979 he was appointed to post-graduate study in Rome in Canon Law at the Gregorian University; he obtained a J.C.L. in 1981 and returned to Lincoln first as Assistant Chancellor, and later as Vicar General for the diocese. He was named Bishop of the Baker diocese in Oregon in 1999 by Pope John Paul II and consecrated on January 26, 2000.