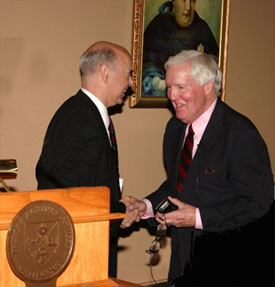 Ambassador Shakespeare (rt) approaches the podium to give the Presidents' Day talk, following Dr. Dillon's prefatory remarks, welcoming the ambassador as "a member of the extended family of Thomas Aquinas College." Santa Paula, California — On Friday evening, February 24, 2006, Ambassador Frank Shakespeare was the guest of honor at a formal dinner in celebration of Presidents' Day at Thomas Aquinas College. This was Shakespeare's second visit to the Southern California campus; he delivered the Commencement Address there in 1988.
A highly accomplished broadcast executive in his early career, Shakespeare served as president of CBS Television and RKO General, Inc. President Nixon then asked him to join his administration and oversee the United States Information Agency. Later, Shakespeare chaired the International Broadcasting Bureau, which included broadcast elements such as the Voice of America. In the 1980s, he served as chair of The Heritage Foundation, Washington, D.C.'s premiere conservative think-tank. He also oversaw the efforts of Radio Free Europe and Radio Liberty, supervising inspirational transmissions to the freedom-seeking people of the then-Soviet Union and its Eastern European block. It was in this capacity that Ambassador Shakespeare served as a front-line warrior in the Cold War and played a part in the eventual downfall of the Soviet Communist system. In 1985, President Ronald Reagan called on Mr. Shakespeare to serve as the U.S. Ambassador to Portugal. Not longer after, he was given the high honor of serving until 1989 as U.S. Ambassador to the Holy See, only the second American to hold that post after President Reagan opened official diplomatic relations with the Holy See.
In his talk to the students and faculty of Thomas Aquinas College, Shakespeare, a consummate story-teller, described the simultaneous rise to power of U.S. President Ronald Reagan, Pope John Paul II and General Secretary of the Communist Party Mikhail Gorbachev as providential, and he highlighted the pivotal roles that these three men played — under the protection of Our Lady of Fatima — in the collapse of communism and the Soviet Union.
Following his talk, Ambassador Shakespeare received a standing ovation and this comment by president of Thomas Aquinas College, Dr. Thomas E. Dillon: "For our celebration of this national holiday, we were honored to have as our guest speaker a distinguished Catholic layman and a statesman of the highest order who has served our country and our Church with distinction."