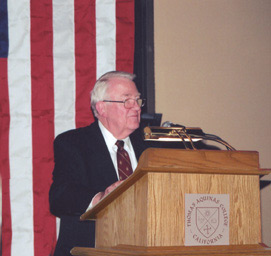 The Honorable Edwin A. Meese III SANTA PAULA, CALIF—February 18, Thomas Aquinas College celebrated Presidents' Day with a holiday complete with a formal dinner and a lecture given by the Honorable Edwin A. Meese III. Past speakers for this annual event include William E. Simon, Jr., the Honorable William P. Clark, the Rev. Richard John Neuhaus, Supreme Court Justice Antonin Scalia, and the Honorable Jeremiah A. Denton.
Meese was chosen as this year's Presidents' Day Speaker so that he could share with students the knowledge and wisdom about the American political system he has gained during his extensive and influential career as a lawyer, educator, and public official. With a B.A. from Yale and a J.D. from UC Berkeley, Meese served in the Reagan Administration as a member of the US National Security Council from 1981 - 85 and as the 75th US Attorney General from 1985 - 88. He is also a retired colonel of the US Army Reserve.
Meese now holds the Ronald Reagan Chair in Public Policy at the Heritage Foundation where he also chairs its Center for Legal and Judicial Studies. In addition, he is a Distinguished Fellow at both the Hoover Institution at Stanford University and The University of London's Institute of United States Studies. Additionally, he is the author of a number of books, including With Reagan: The Inside Story. He recently completed six years as chairman of the governing board of George Mason University in Northern Virginia.
A before-dinner reception in honor of Meese was held in the Boardroom of St. Bernardine of Sienna Library on the college campus and was attended by faculty and members of the board of governors. During dinner, students entertained the college community and honored guests with their performance of patriotic songs.
Dr. Thomas Dillon, president of the college, then introduced Mr. Meese, saying, "As we celebrate Presidents' Day, it is a special honor for us to have with us a man who was privileged to spend much of his life at the side of one of our nation's greatest presidents, President Ronald Reagan."
In his insightful and inspiring Presidents' Day address, Meese called upon the writings of the American founders and the history of the American judiciary to give a principled critique of the judicial activism so prevalent in this country today. He called for renewed vigor in the executive and legislative branches to counter an overreaching judiciary, and urged members of the US Senate to refrain from their unprecedented use of the filibuster to block judicial nominations.
Commenting on the lecture afterwards, Dr. Michael McLean, dean of the college, said, "Mr. Meese's address, and the spirited question and answer period which followed, complemented well the college's study of political philosophy and the American founding, and helped its effort to cultivate in students the virtue of patriotism and a sense of the importance of service to one's country."