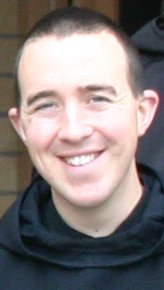 We have received the joyful news that Br. Andrew Marie Norton ('06) will soon make his solemn profession as a Benedictine monk at Our Lady of the Annunciation of Clear Creek Abbey in Hulbert, Okla. Br. Andrew is one of 10 Thomas Aquinas College alumni at Clear Creek, including the Abbey's subprior, Rev. Mark Bachmann, O.S.B. ('82). Writes Br. Andrew:
I will be making my solemn profession on Sept. 8, and this fills me with joy. I am so grateful to God for having led me on this path, to a life of intimacy with Himself. As this happy day approaches, I humbly ask for your prayers, that the Lord grant me the smallness necessary to soak up all of His love, like a sponge. Please be assured of my continued prayers …
Please pray for Br. Andrew as this beautiful day approaches!