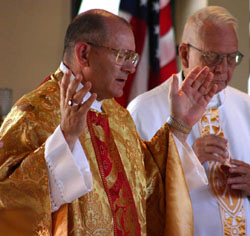 The Most Reverend Robert F. Vasa, Bishop of Baker, Oregon, (l) presided over Convocation ceremonies on August 22, 2005 and offered the opening Mass of the Holy Spirit, assisted by College chaplain, Rev. Cornelius Buckley, S.J. (r). Santa Paula, California — On August 22, Most Reverend Robert Francis Vasa of the diocese of Baker, Oregon, presided over the 35th Convocation at Thomas Aquinas College. For the first time in its history, the College has enrolled the maximum number of students for which it has planned since its founding.
The day began with a Mass of the Holy Spirit, at which Bishop Vasa, the principal celebrant and homilist, suggested to the new students that, "In some ways your time here at Thomas Aquinas College is a gathering in an upper room awaiting the movement and gifts of Pentecost." He went on to reflect on the words of Pope Benedict XVI who has long called for the creation of "islands of spiritual concentration" in order to combat the prevailing "dictatorship of relativism" which the Holy Father referenced in his pre-Conclave Mass. In his own words, Bishop Vasa encouraged the in-coming freshman class to make good use of their time on campus. "Here you find your own island of spiritual concentration. Here is your intellectual, spiritual and character training ground. Take full advantage of this island of spiritual concentration not only for your own good but ultimately for the well being of the least of our brothers."
During the matriculation ceremony, 102 freshmen stepped forward to sign the College registry as Bishop Vasa expressed admiration and support for their decision to attend Thomas Aquinas College. "At this College you are privileged, and I envy you. You are embarking literally on a study of mankind, of man and therefore of yourself. The premises with which you start here are those very simple first lessons of the Catechism."
"Bishop Vasa added eloquence and breadth to this year's convocation," Said Dr. Thomas E. Dillon, president of the College, "His inspiring words regarding the objectivity of truth and the elemental need to seek it with the light of faith spoke directly to the primary mission of our College."
The Oregon prelate became familiar with Thomas Aquinas College through meeting former graduates in his home diocese of Baker. This was the first of what is hoped will be many more visits to the Santa Paula campus.
At the matriculation ceremony, Director of Admissions, Mr. Jonathon Daly, presented the freshmen class to Dean Michael McLean. With an average SAT score of 1289, these students come to Thomas Aquinas College from 28 states, Puerto Rico, Canada, Slovakia and Ghana.
About Bishop Robert Francis Vasa
A native son of Lincoln Nebraska, Bishop Robert Francis Vasa was ordained for the diocese of Lincoln Nebraska on May 22, 1976. In 1979 he was appointed to post-graduate study in Rome in Canon Law at the Gregorian University; he obtained a J.C.L. in 1981 and returned to Lincoln first as Assistant Chancellor, and later as Vicar General for the diocese. He was named Bishop of the Baker diocese in Oregon in 1999 by Pope John Paul II and consecrated on January 26, 2000.