Receives Tucker Design Award for Our Lady of the Most Holy Trinity Chapel
(SANTA PAULA, Calif.) - On May 14, 2010, at Yale University in New Haven, Conn., design architect Duncan Stroik received the Tucker Design Award for his work on Our Lady of the Most Holy Trinity Chapel at Thomas Aquinas College. The new chapel's façade is made of Indiana limestone and features fluted Ionic columns on either side of the arched entry to the loggia. Completing the façade are, in ascending order, a Latin inscription of the Chapel's name, a balustrade, a graceful quatrefoil window, and a triangular frame, or pediment, at its top.
Sponsored by Building Stone Institute, the Tucker Awards are recognized as some of the most prestigious architectural design awards in the country. Presented biennially, the Tucker Awards honor those who have achieved excellence - in concept, design, and construction - through the incorporation and use of natural stone in their building or landscape project.
Said President Michael F. McLean, "We are delighted by Duncan's design work for the façade of our chapel, and very glad to see him honored for it in this way."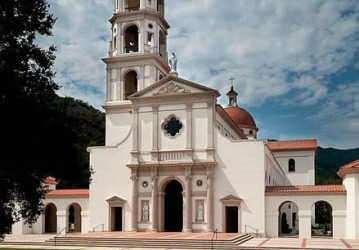 CALENDAR