Faith in Action Blog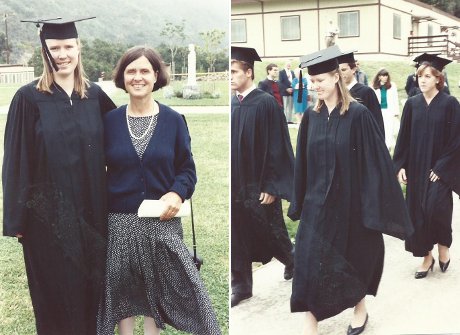 Many thanks to Keith Roscoe, brother of Brenda ('89), who has provided the two photographs above from his sister's graduation in 1989. He has also penned a loving obituary, and offers the following funeral information:
The Wake is scheduled for Friday, November 14 at 7:00 p.m. with the Recitation of the Most Holy Rosary and Prayers for the Repose of the Souls of the Dead. The Funeral Mass will be offered by Father John Horgan, Pastor, at St. Pius X Catholic Church in North Vancouver (B.C.) at 10:00 a.m. on Saturday, November 15, followed by a Reception in the Parish Hall. The casket burial of her mortal remains will take place on Monday, November 17, 2014, at 10:00 a.m. Gardens of Gethsemani Catholic Cemetery in Surrey, B.C. All are welcome to all services. …
In lieu of flowers, please leave a donation for Masses to be said for the Succour of the Poor Souls in Purgatory (Brenda Roscoe), care Fr. John Horgan of St. Pius X Catholic Church in North Vancouver.
Please continue to pray for the repose of Brenda's soul and the consolation of the Roscoe family.