Faith in Action Blog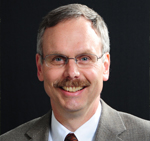 Luke Macik ('87), headmaster of The Lyceum in South Euclid, Ohio, recently appeared on the From the Median program on the Salem Radio Network's WHK in Cleveland. There he discussed the school he leads, its commitment to Catholic liberal education, and the tremendous success it is enjoying. His appearance was part of an ongoing series titled, "The Importance of Teaching Our Students to Think Critically in a World Filled with Sound Bites," which in December included an interview with Thomas Aquinas College President Michael F. McLean.
"Your school is just like the city on the hill," host Molly Smith told Mr. Macik, who replied that the Lyceum adheres to a simple but proven educational philosophy: "Have students read really good texts, that is, original works. Have them study Latin and Greek. Don't dumb things down for them, and get to the real business of education."
In just its 11th year, the Lyceum has become one of the top Catholic high schools in the nation. It earned a spot on The Cardinal Newman Society's 2014 Catholic Education Honor Roll of schools "marked by the integration of Catholic identity throughout all aspects of their programs and excellence in academics." A quarter of the Lyceum's graduates are National Merit Scholars, Finalists, and Commended Students, having scored in the top 1 percent to 5 percent on the PSAT, and the school's average SAT score is in the top 14 percent of the nation.
During the interview Mr. Macik cited his own education at Thomas Aquinas College as evidence of the great versatility of a classical education, particularly his work as an attorney prior to become a full-time educator:
"I had this kind of education in college. I studied the liberal arts, studied the great books … then found myself going to law school and then — of all places in the world — I had an opportunity to practice law among the Navajo Indians.… I'm probably one of very few people who can qualify as an expert in Navajo court in their own law system, but it just shows you the applicability of the liberal arts. I did that for 15 years. I was their insurance defense counsel.… The real training I had for the practice of law in Navajo court was not what I did in law school — I had no courses on Navajo law — it was what I did in my undergraduate work."
Streaming and downloadable audio of the complete interview are available courtesy of From the Median: