Faith in Action Blog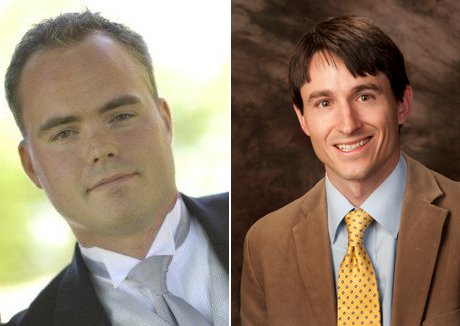 Dr. Matthew J. Peterson ('01) and Dr. S. Adam Seagrave ('05)
The latest issue of the Claremont Review of Books features one Thomas Aquinas College alumnus writing about another: Dr. Matthew J. Peterson ('01), a visiting assistant professor of government at Claremont McKenna College, reviews The Foundations of Natural Morality: On the Compatibility of Natural Rights and the Natural Law, by Dr. S. Adam Seagrave ('05), an assistant professor of political science at Northern Illinois University.
"I wanted to title my review 'Natural Law Photobombs Locke-ish Selfie: What Happens Next Will Shock Your Political Philosophy," jokes Mr. Peterson via Facebook. "But they went with Nature Trail. I guess I'll keep my day job."
Alas, sans the Gawker-worthy headline, the review begins:
"The debate over what we mean when we speak of rights, especially in the American context, often concerns what John Locke understood them to mean. Locke's ambiguity is a gift that keeps on giving to scholarly presses. In The Foundations of Natural Morality: On the Compatibility of Natural Rights and the Natural Law, S. Adam Seagrave, a self-identified Aristotelian-Thomist, mercifully refrains from attempting the definitive commentary on what he rightly calls Locke's 'problematically vague and incomplete' account of the basis of rights. Instead, he makes not a wholly Lockean but, as he says, a 'Locke-ish' case for how natural rights arise from the very structure of human beings."
After a thoughtful analysis of Dr. Seagrave's book — mostly positive, albeit sprinkled with a few objections — Dr. Peterson concludes his review with praise:
"[Dr. Seagrave] has eschewed the imposing vagaries of modern scholarship in favor of actually engaging in the act of philosophy rather than mere commentary or critique. True philosophic exploration of difficult questions is much like the art of negotiating a fair deal: if one side walks away in smug satisfaction, you're probably not doing it right. Everyone will disagree with some chunk of S. Adam Seagrave's provocative work, but his effort is a brave breath of fresh air in the stagnant, painfully insecure, and often comically compartmentalized world of academic books."
The full review is available via the Claremont Review of Books.