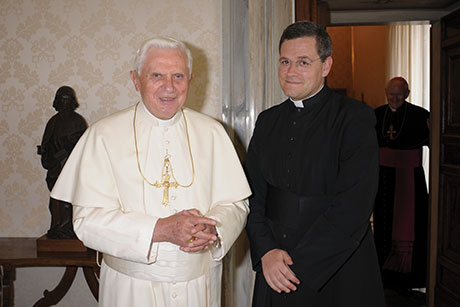 The Very Rev. John M. Berg, F.S.S.P. ('93), with His Holiness Pope Benedict XVI in 2009During a plenary session at the International Seminary of Our Lady of Guadalupe in Denton, Neb., the General Chapter of the Priestly Fraternity of St. Peter (FSSP)  re-elected the Very Rev. John M. Berg, F.S.S.P. ('93), to a six-year term as Superior General. Fr. Berg is the Fraternity's third Superior General, having been first elected to the position in 2006 at the age of 36.
The Fraternity includes 228 priests and 154 seminarians serving 117 dioceses in 16 countries. Its members represent 35 nationalities, with an average age of 36. A society of pontifical right founded by Bl. John Paul II in 1988, it has three pillars: fidelity to the See of Peter, dedication to the extraordinary form of the Mass and all the sacraments, and emphasis on the thought of St. Thomas Aquinas as a clear basis for presenting the Faith. 
When he graduated from Thomas Aquinas College in 1993, Fr. Berg's classmates elected him to be their class speaker at Commencement. In that address he remarked, "We have a duty to bring to the world the Catholic faith just as we have received it, in part, here. We must show others that knowledge of the Divine does illumine all other knowledge, and that the tenets of the Faith are reasonable.… We must also live a moral, Catholic life in all of our dealings with society, and pass on the beautiful traditions of the Church to others in the community in which we live, whether that community be small, as a family, or large, as a town."
Providence has so disposed it that Fr. Berg now has the opportunity to heed his own admonition in an eminent way. In his role as Superior General, he once explained, "My main duty is to the priests and seminarians of the Fraternity. I am responsible that they have the means set out by our constitutions — and, therefore, the Church — to achieve holiness. I must ensure that our seminaries are well staffed and well ordered, and I must place our priests in work that will provide them appropriate formation. Then it is my task to contact them frequently, in a fatherly manner. In addition, I make the financial and material decisions for the order with the aid of a general council."
It is a tremendous responsibility, but one for which he has proven himself well equipped. Please keep Fr. Berg and the Fraternity in your prayers as he begins his second term.