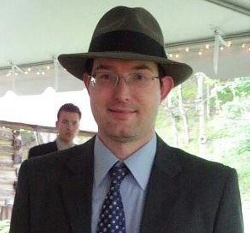 Director of Alumni Relations Mark Kretschmer notified alumni last night that after a week-long search for John Morris ('03), a freshman at the College in 1999-2000, authorities had discovered his body.
Mark asked alumni to "pray for the repose of John's soul and for the comfort and solace of  his family and friends during this very difficult time." He added that "Rev. Hildebrand Garceau ('78), one of the College's chaplains, will say a Mass for John next Thursday, June 14 at 5:20 p.m. in the College's Chapel. Of course, everyone is welcome to attend."
May his soul, and those of all the faithfully departed, rest in peace.