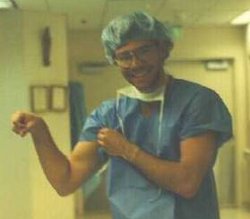 In 1993, one year after one of its former medical students died of cancer, the University of Alaska Anchorage created an award in his honor. This year marks the 20th anniversary of the creation of that award, named for Jon B. Syren, a member of the Thomas Aquinas College Class of 1987.
The university website notes:
Jon Benedict Syren expected to graduate from the University of Washington School of Medicine in the Class of 1993. He began his medical training in Anchorage, Alaska, in the fall of 1989 as a member of the first class of WWAMI (Washington, Wyoming, Alaska, Montana, and Idaho) students enrolled in the Biomedical Program at the University of Alaska Anchorage.…
Jon distinguished himself by earning honors in several categories of studies, both in Anchorage and Seattle. He is also remembered by those who knew him for his strong commitment to his family and his faith, and for his unflagging courage and equanimity in the face of personal adversity.
The Jon B. Syren Award recognizes a first-year medical student in the University of Alaska Anchorage WWAMI School of Medical Education who has demonstrated personal qualities of character, integrity, and compassion, combined with a commitment to and promise of community service in medicine.
Mr. Syren's widow, Angela (Andersen '87) Connelly is a member of the College's Board of Governors. She has spoken eloquently about the blessing that accompanied her first husband's holy death for those around him:
When Jon died, it was one of the most beautiful experiences I have ever had. I saw the effect that our education at the College had had on him. It was absolutely beautiful. And there was a ripple effect on the entire medical community and all that knew him and watched him suffer — in a way so beautifully, not dismayed or broken by it. His suffering was so faith-filled that it was just triumphant.
Twenty-one years later, Jon Syren's life and death continue to touch lives. May he rest in peace.