Marianna Bartholomew has published an article with the Catholic News Agency about a sign of springtime in the Church — the return of hand-stitched altar linens at Blessed Sacrament Church in Lincoln, Neb. The linens are the handiwork of faithful parishioners in a newly established "Order of Martha," an organization which boasted as many as 6,000 members in the 1960s, but by 2005 had dwindled to only five known groups nationwide. At the heart of this story is the priest who recognized two needs — one material, one spiritual — and by bringing them together inspired a group of committed laywomen who make beautiful vestments and altar cloths to be used in the Mass.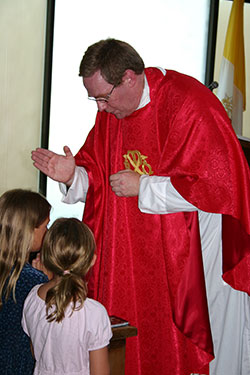 That priest is Rev. Brendan Kelly ('85), the pastor of St. Wenceslaus Catholic Church in Bee, Neb., and a teacher at St. Gregory the Great Seminary in Lincoln.
The story begins in 2008 when Fr. Kelly, who was then assigned to Blessed Sacrament, discovered that the girls in his church took a keen interest in its tattered and aging altar linens. Remembering his grandmother's participation in the Order of Martha, and mindful of the great joy its members took in offering themselves at the altar in this way, Fr. Kelly established a new chapter. The chapter has since sewn linens for Blessed Sacrament as well as for the College's Our Lady of the Most Holy Trinity Chapel.
This new Order of Martha has also borne great spiritual fruit — which you can read all about in Mrs. Bartholomew's wonderful story.