"Suscipe me, Domine, secundum eloquium tuum et vivam, et non confundas me ab expectatione mea."

"Receive me, Lord, as you have promised, and I shall live; do not disappoint me in my hope."

— Rule of St. Benedict 58:21; Psalm 118[119]:116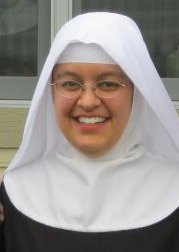 Please pray for Sr. Mary Josepha (Kathleen'07) Holcomb, OSB, who on Saturday will pray the above psalm, as did St. Benedict, and make her first vows as a member of the Benedictines of Mary, Queen of the Apostles, in Gower, Mo. She will also receive the name Sister Mary Josefa of the Eucharist.
Thanks be to God!