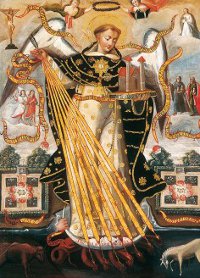 Timed for the Feast of St. Tomas Aquinas, alumnus Sean Fitzpatrick ('02) has published a thoughtful article about the College's patron on Catholic Exchange. In it, Mr. Fitzpatrick discusses the child-like simplicity and innocence that made Thomas both a saint and the Church's Universal Doctor:
Though Thomas Aquinas was a man of formidable stature with a fair head like the sun at the crest of a hill, he possessed a delicate genius. He looked upon the world with the authentic wonder and perceptive power of a youth, and engaged it with a youth's zeal, honesty, and solemnity. There are few things more serious than a child engrossed in his play, and Thomas resembled one of these in his work. The brilliance of his writings shines with a virtuosity like play. Though the connotation may exist, and with good reason, to depict or classify Thomas as an austere academic of furrowed brow and no nonsense, there is a straightforward delight and precision about this saint and his compositions that can evoke the schoolboy as much as the scholastic.
The heart of this mystery surrounding Thomas Aquinas is a terrible innocence. By a miraculous grace, Thomas was permitted to retain a moral integrity throughout his fifty years of life, and a disposition that was not drawn towards the darker regions of human depravity. His sins were reputedly the simple sins of small children, and this virtue freed his intellect from the temptations and distractions that drive away wisdom. Thomas had the liberty to examine the intricacies of the worlds around him unencumbered with the disturbances that human nature often introduces.
The full article is available via Catholic Exchange. St. Thomas Aquinas, pray for us!