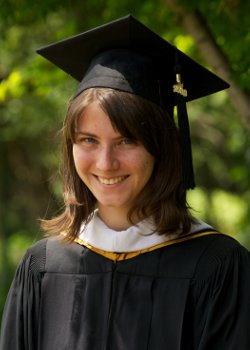 Thomas Aquinas College chaplain Rev. Hildebrand Garceau, O.Praem. ('78), reports that a beloved alumna, Rosie Grimm ('10), passed into eternity earlier this evening after a protracted battle with cancer. She died surrounded by her family, who had just completed praying the Rosary. It was the most peaceful and beautiful death, Fr. Hildebrand says, that he has ever seen.
Rosie's brother Jack ('15) has sent out the following reflection to friends and family:
My sweet sister Rosie died at about 6:20 tonight, after praying the Rosary with the family. She has been the most wonderful example of courage and faith that I have ever known or seen, as well as being a deeply encouraging and loving friend.
"Where shall we find a better daughter, or a kinder sister, or a truer friend?"
I look forward to seeing her again. May she rest in peace.
Please pray for the repose of Rosie's soul and the consolation of her family.
Bl. Miguel Pro, pray for us!