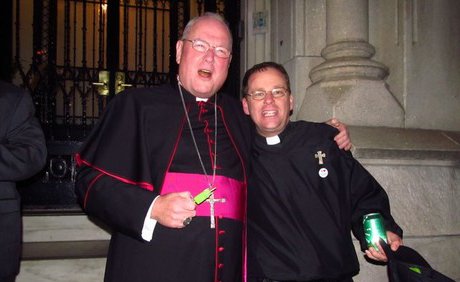 His Eminence Timothy Cardinal Dolan, Archbishop of New York, greeting Rev. John Higgins ('90) last year with a popsicle and a soda at the completion of Fr. Higgins' 50-mile walk to St. Patrick's Cathedral.

One year ago, Rev. John Higgins ('90), pastor of the Church of the Assumption in Peekskill, N.Y., walked 50 miles from his church to St. Patrick's Cathedral in midtown Manhattan to raise money for his parish elementary school. This weekend, he will undertake that same journey.
Fr. Higgins' 2011 pilgrimage raised $77,000 for the 225 students of Assumption School, many of whom live under the poverty level. This year he hopes to top that total. "It's about 110,000 steps to Saint Patrick's Cathedral, and we hope to get a dollar for every step that we walk, making our goal $110,000," he writes. "I think we can do it!"
Help sponsor Fr. Higgins' walk for Assumption School either online via PayPal, or by sending a check to:
Assumption School
920 First Street
Peekskill, NY 10566
ATTN: Walk 2012
Godspeed, Fr. Higgins!