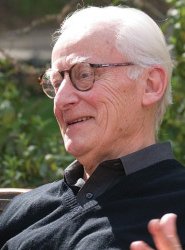 Two alumni of the College — Dr. Thomas Cavanaugh ('85), chair of the Department of Philosophy at the University of San Francisco, and Dr. Brian Kelly ('88), dean of Thomas Aquinas College — make an appearance in a lovely story about Dr. Ralph McInerny that appears today in Crisis magazine. The article, by Dr. Christopher Kaczor of Loyola Marymount University, is timed for the Feast of St. Thomas Aquinas, and fittingly so, given Dr. McInerny's devotion to the Universal Doctor.
In addition to being a renowned Thomistic philosopher, a bestselling novelist, and a beloved father of seven, Dr. McInerny was the mentor and teacher to scores of accomplished young scholars. Among them were Drs. Cavanaugh, Kelly, and Kaczor, as well as numerous alumni and tutors of the College.
The piece, Remembering Ralph McInerny, is a delightful read, especially on this Feast.