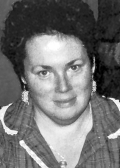 After a long struggle with cancer, Mary Kathleen Lear (Katie) Gates — mother of Nora (Bulcher '04) and mother-in-law of Peter Bulcher ('05) and tutor John Baer — died this past Saturday. A mother of 8 children and the grandmother of 29, Mrs. Gates was a pioneer in homeschooling and a member of several choirs. Her complete obituary is available via the Ventura County Star.
A rosary for Mrs. Gates will be held on Friday, June 8, at 7 p.m. at St. Sebastian Church, 235 N. Ninth Street in Santa Paula, Calif. A funeral will be held on Saturday, June 9, at 10:30 a.m., also at St. Sebastian. Interment will follow at Santa Paula Cemetery.
Please pray for the repose of Mrs. Gates' soul and the consolation of her family.