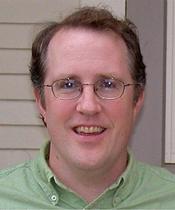 Bill Dunn ('97) has written to inform us of the death of Paul Meyer ('94):
"I have just learned the sad news that Paul Meyer died recently of a very sudden illness. He had apparently gone to the doctor about three weeks ago after not feeling well, and was sent to the hospital. About a week later he died from a rare and very aggressive form of cancer.…
"Paul and his wife, Kimberlie, were active members of their parish in the diocese of Tulsa, and in recent years they had adopted four children from China in order to provide a Catholic home for them, and also to help promote the culture of life in a country that has state-mandated abortions.
"A group of us in the Tulsa diocese have been organizing a classical studies program for homeschoolers which is to begin this fall, and Paul was going to serve as our math and science teacher. Paul and Kimberly were homeschooling their children while Paul worked as a freelance software engineer and also as a physics teacher at a local college.
"Paul was a kind and humble man, and in his quiet way he radiated a deep and abiding joy which was rooted in his Catholic faith. Paul had a good heart; he loved God above all things, and he always tried to help others to grow closer to God in their own journey through time."
A full obituary is available on the website of Tulsa's Fitzgerald Funeral Home.
Please pray the repose of Paul's soul, and for the consolation and well-being of his wife, Kimberlie, and their four children.