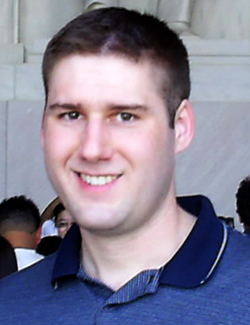 The Archdiocese of Denver Mortuary website has published the obituary and funeral information below for Peter Daniel Doran II ('06), who died last week. Please continue to pray for the repose of his soul and the consolation of his family.
Peter Daniel Doran II
(1984-2014)
Peter Daniel Doran II passed away suddenly June 4, 2014, from a pulmonary embolism that caused cardiac arrest. Born December 4, 1984, in Denver, he was 29 years old. Peter graduated high school from Colorado Catholic Academy in Wheat Ridge in 2002. He continued his education at Thomas Aquinas College in Santa Paula, California, earning an undergraduate degree in philosophy and theology in 2006. He went on to earn a Master of Accountancy from Metropolitan State University of Denver in 2012. He earned his CPA in 2014.
He is survived by his parents, Peter and Lou Ann Doran; three of his grandparents, Johanna Doran, and Hugh and Mary Hogan; his four siblings, Mary Kate, Mark, Kevin, and Sam; and by numerous aunts, uncles, and cousins whom he loved so well.
Peter was a most gentle son, a beloved brother, and a faithful friend. He served at Mass as an altar boy for much of his life. He taught the Holy Catholic Faith to others for years. He became an Extraordinary Minster of Holy Communion in 2014. He was a learned defender of the Faith. He loved hiking in the beautiful Rocky Mountains, especially conquering fourteeners with a bottle of Chimay to share with his fellow climbers. He constantly strove to console and comfort those in need. He made the best buttery, flaky, sweet apple pie. He will be sorely missed.
There will be a viewing from 6:00-7:00 pm June, 10, 2014, at Holy Ghost Catholic Church, followed by the recitation of the Rosary at 7:00 pm. His funeral Mass will be at 10 am Wednesday, June 11, at Holy Ghost Catholic Church, followed by interment at Mt. Olivet Cemetery in Wheat Ridge. A reception will follow at Holy Ghost. In lieu of flowers, the family has asked that donations be made to the Oblates of the Virgin Mary, and the Carmelite Monastery of Littleton.