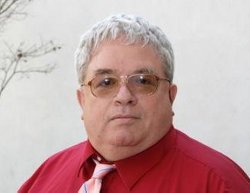 Thomas Aquinas College tutor and alumnus Michael J. Paietta ('83) died late in the evening of March 25, 16 days after entering the hospital with symptoms suggestive of a heart attack. Just prior to his passing, he received the last rites, including absolution and an apostolic blessing from College chaplain Rev. Hildebrand Garceau, O.Praem ('78).
Mr. Paietta served for a number of years in the U.S. Navy and attended the University of California, Los Angeles, for a short time before enrolling at Thomas Aquinas College as a 25-year-old freshman in 1979. He graduated from the college in 1983 and went on to the University of Notre Dame, where he did his graduate and doctoral work. In 1989 Mr. Paietta returned to the College as a member of the teaching faculty.
Mourning the loss of his one-time student and colleague of many years, President Michael McLean said, "Mike was noteworthy for his love of literature, music, and baseball. Not only did he love these things, he sought to understand everything about them. Above all, though, he was devoted to understanding the thought of our patron, St. Thomas, and was particularly sure that discussions with our founders, Ron McArthur, Jack Neumayr, and Mark Berquist, would help him in that pursuit."
Reflecting on Mr. Paietta's life, Dean Brian T. Kelly noted, "Mike was a unique and beloved member of the Thomas Aquinas College community. He cared deeply about his students and mingled with them frequently in the dining hall. In class and at meals, he displayed charity, good cheer, and an extremely dry wit. Mike taught a range of courses in philosophy, theology, science, and mathematics. But he especially loved the arts; I trusted implicitly his views on literature and music, and happily followed many of his movie recommendations. His deep-rooted sense of loyalty was manifest in his abiding love for the Catholic Church, Thomas Aquinas College, and the Los Angeles Dodgers. He will be sorely missed."
Dr. Paul O'Reilly, a longtime fellow tutor and the College's Vice President for Development, added a personal reflection saying, "Mike had a tremendous wit and a remarkable memory. We all wanted him on our trivial pursuit team. And those who had him on their team were on the winning side."
Funeral arrangements for Mr. Paietta are pending. A memorial Mass will be offered at a later date in the college's chapel of Our Lady of the Most Holy Trinity. Details will be provided on the College's website when they are available.
Please keep Mr. Paietta and his family in your prayers.
May his soul and those of all the faithfully departed, through the mercy of God, rest in peace.