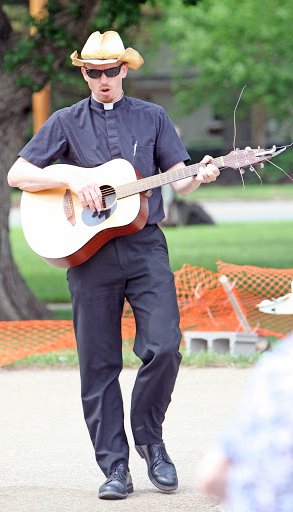 After serving for three years as the parochial vicar at Most Pure Heart of Mary Parish in Topeka, Kansas, Rev. Nicholas Blaha ('02) has moved on to a new assignment. The young priest is now the head of campus ministry at Emporia State University, a 6,000-student, public university some 100 miles southwest of Kansas City.
It is a position for which he is well suited. Prior to entering the seminary in 2006, Fr. Blaha spent three years as a missionary on secular campuses for the Fellowship of Catholic University Students. That experience, he says, gave him a glimpse of what it would mean, as a priest, to serve as an alter Christus. "I saw God working in people's lives, bringing about conversions," he notes. "It wasn't me doing it, but in some sense, it wouldn't have happened had I not been there. That was a mark of the call of God; God is going to do this, but he won't do it without me."
Writing on Kansas City's archdiocesan blog, Evangelized Kansas, Fr. Blaha adds that his time as a campus missionary gave him, "a front row seat to the work of the Holy Spirit in the lives of young men and women" and "a sense that I could do this sort of thing for the rest of my life." Providentially, he is now doing "this sort of thing" again as an ordained priest of Jesus Christ.
In that same blog post, Fr. Blaha also reflects on his four years at Thomas Aquinas College:
"I truly loved what I studied there, especially the theological works of our patron, St. Thomas Aquinas. The founders of the College emphasized that his work was the greatest synthesis of faith and reason our Church has ever seen — and that if there was any hope for a growth in understanding in our own age, it would have to take into account and build upon Thomas's insights. Furthermore, the College was saturated with a Catholic culture, and the friendships I made there continue to sustain me to the present day, though we are separated often by thousands of miles."
Please pray for Fr. Blaha, the souls in his care, and his work at Emporia State.