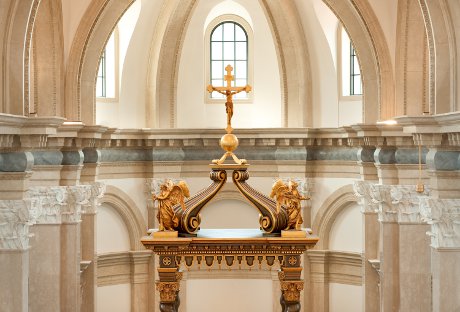 Please pray for the repose of the soul of Kevin Long ('77), as well as the consolation of his beloved wife, Martha (Schaeffer '76), and their family. After struggling for many years with multiple illnesses, Mr. Long died on August 19 at his home in Arlington, Virginia.
Mr. Long was born August 2, 1955, the only son of James and Esther Long. He is survived by his wife, Martha; his mother-in-law, Jane D. Schaeffer; sisters-in-law, Anne Forsyth ('81), Mary Richard ('82), Joan Waxtein ('85), and Laura Langley ('89); and 22 nieces and nephews: Jane ('11) and Michael Forsyth ('14); John ('13), Carmel ('15), Jeannette ('17), Robert ('13), Thomas, Dominic, and Paul Richard; Bernardo, Gabrielle, and Joseph Waxtein; and David ('15), Aaron ('16), Clare, Margaret, Kathleen, Gianna, Emma, Laura, Marie, and Celine Langley. He was preceded in death by his devoted brother-in-law, George Forsyth, his beloved father-in-law, John E. Schaeffer (a founding member of the College's Board of Governors), and his mother, Esther Long.
In lieu of flowers, the family requests donations to Thomas Aquinas College, 10,000 Ojai Road, Santa Paula, CA 93060. May his soul, and those of all the faithful departed, rest in peace.