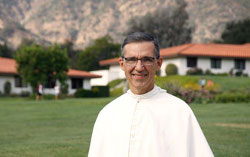 Please say a prayer for Rev. Hildebrand Garceau, O.Praem. ('78), a graduate of the College and one of its four chaplains, who today celebrates the 30th anniversary of his ordination.
Fr. Hildebrand is one of three priests from the Class of 1978, having received the Sacrament of Holy Orders at the hands of Timothy Cardinal Manning, then the Archbishop of Los Angeles, on June 16, 1984. He was one of the College's first alumni priests, who now number 60, with another ordination set for this fall.
Over the last three decades, Fr. Hildebrand has served at various churches in Los Angeles and Orange counties, including seven years as the pastor of St. John the Baptist Church in Costa Mesa. He returned to his alma mater as a chaplain in 2011.
Thanks be to God for this good and faithful priest!