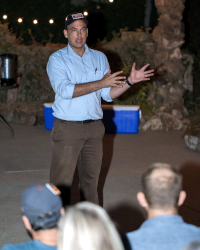 Aaron Dunkel ('06)"There is something beautiful about local politics: When you are focused on very tangible decisions — whether to fix a road, or hire a new police officer — ideologies that can become very distracting in state or national politics are minimized," reports Aaron Dunkel ('06). A newly appointed member of the Planning Commission for the City of Santa Paula — hometown of Thomas Aquinas College, California — he appreciates the municipal emphasis on the common good. "While people obviously bring opinions to any discussion, everyone is seeking something good. That has been very motivating for me."
A native of Northern California, Mr. Dunkel made Santa Paula his home shortly after graduating from the College in 2006. For two years he worked at an advertising business in neighboring Ventura and got to know his fellow Santa Paulans while tending bar at a local restaurant during off hours. In 2010 he began working for his alma mater, first as the Development Office's database manager, then in alumni relations, and now in the IT department.
All the while, he has developed a greater interest in the workings of the city, its roads, its zoning decisions, and its governance. A few years back he began attending City Council meetings and, inspired by the potential to do good, ran for one of three open seats on the council in 2018. "I entered the race about six months too late, in a field of six dominated by two lifelong residents with widespread name recognition," he says. Not surprisingly, he lost the election, but he made many meaningful friendships with the city's residents, including his fellow candidates, which convinced him to deepen his involvement in local politics.
That involvement came to a head last winter, when the city considered a proposal to permit the sale of medical and recreational marijuana within its boundaries. Although most observers considered the initiative's passage an inevitability, a community-wide group called Safeguard Santa Paula — which included a large contingent of Thomas Aquinas College families — rose to oppose the measure. Uniting a broad swath of the city, Safeguard Santa Paula overcame the well-funded and coordinated efforts of the commercial cannabis industry, persuading the City Council to defeat the measure.
"During that time I realized, through the many great testimonials that people made before the Council, that there really is a strong idea out there of what Santa Paula is and what it could be," says Mr. Dunkel. "Safeguard Santa Paula wasn't a movement against something; it was a movement for something, for a stronger vision of community. That inspired me to look for ways to do more."
So when an opening arose on the Planning Commission this spring, Mr. Dunkel put in his name for consideration. After interviewing with the council, its members — including four who had not long ago been vying with him for a council seat — voted unanimously to award him the position.
As a member of the commission, he works with his colleagues to ensure that development in Santa Paula, such as the placement of streets and the permitting of businesses, is carried out in an orderly fashion and in accordance with the city's General Plan and Development Code. The commission also advises the Council and makes policy recommendations.
In working through complicated issues, Mr. Dunkel says he finds himself harkening back to lessons learned in classroom discussions at the College. "Sometime in politics, when you choose something, all the other possible choices that get passed over are cast in a bad light," he says. "But most people are honest and of good will, and in most cases, many or all of the options we consider may be good, but we can only choose one. My education here trained me to approach situations and my neighbors charitably, and that helps me to do this work for the community."