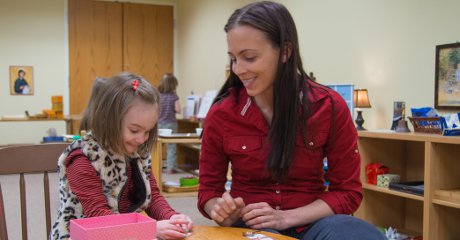 Now featured on the College's website is a profile of Elizabeth Trojack ('06), foundress and head of the Elizabeth Ann Seton Montessori School in St. Paul, Minnesota:
"When I was discerning what college to go to, I was young, and I had my own mindset," says Miss Trojack. Perhaps because her older sister, Anne (Schniederjan '04), was a student at Thomas Aquinas College, Elizabeth was inclined to blaze her own path and go someplace else. "But I believe God had a different plan for me," she says. While praying at Adoration, she detected an unmistakable call to that Catholic, liberal arts college in California that she had initially forsworn.
More than a decade later, she now understands the why behind that call. "I am so thankful that God led me to Thomas Aquinas College and to meet the people I met, to read the books I read, to learn from the tutors that I studied under," she notes. "I absolutely wouldn't be where I am today without the tools, the resources, and the critical-thinking skills that the College gave me."
Follow the link to read the whole profile.