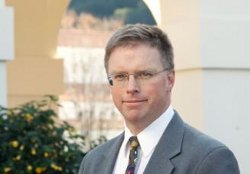 Today's edition of the Ventura County Star includes a story about why, exactly, Catholics make sacrifices or "give something up" for Lent. Featured in the article is a graduate of the College, Dr. Andrew Seeley ('87), who is now a member of the teaching faculty. Portions of the story are excerpted below:
"For some Catholics, Lent is an opportunity to lose weight, but what motivates them is, 'I want to lose weight and look good, and this is the time to do it,' " said Andrew Seeley, a tutor at Thomas Aquinas College in Santa Paula. "That is a superficial approach to Lent." …
Seeley said he plans to give up listening to sports talk radio. There's nothing wrong with it, but in a world cluttered with distractions, he believes it's important to humble yourself into silence now and then.
"The constant distraction says, 'I don't want to think of anything. I don't want to be aware of myself,' " Seeley said.
Seeley, whose teaching specialty is medieval theology, said it's a sign of our times that many have lost the true link between self-denial and deeper spirituality.
"In every other culture and era, it is understood that we must deny ourselves," Seeley said.
Self-denial is just [one] component of Lent, Seeley said. The faithful are also asked to pray more and be more merciful to others, or the "giving of alms."
Seeley believes it's not a good idea to skip the self-denial aspect of Lent, because it is a humbling experience that will connect us with those who are less fortunate. …
The importance of self-denial can be likened to an athlete in training, Seeley said.
"Pain gets our attention. When we choose to suffer pain, we're either insane or up to something really important," Seeley said. "Athletes really pound their bodies because they want to make themselves stronger. Not only do we admire their success, but their strength of will."