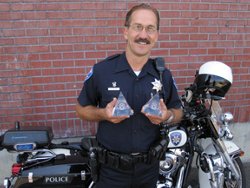 Update: A funeral will be held at Cross Winds Church, 6444 Sierra Court, Dublin, Calif. at 11:00 a.m. on Monday, May 14.
Please pray for the repose of the soul of David Ellis ('83) and the consolation of his wife, Carol, and their family. Recently retired from the Alameda (Calif.) Police Department, Officer Ellis died suddenly of a heart attack on Monday. He was the brother of Sabrina Bjornstrom ('79) and Jennifer Tenney ('85).
For most of his 30 years as a policeman, both in Alameda and previously in Oakland, Officer Ellis was assigned to motorcycle units, serving as the lead instructor for the motorcycle training of new traffic officers. Over the years he received numerous awards for his work, including being named Alameda's Officer of the Year in 2009.
May his soul, and those of all the faithful departed, rest in peace.