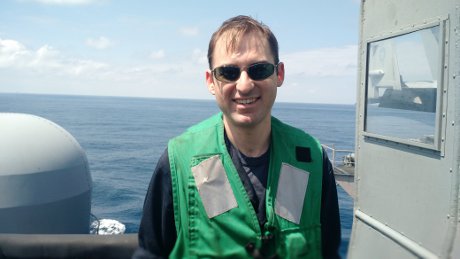 Lieutenant Commander Josh Bergen ('05)
After 12 years as a Surface Warfare Officer for the United States Navy, Lieutenant Commander Josh Bergen ('05) recently transitioned to a Foreign Area Officer (FAO), becoming a Latin America regional specialist. His first FAO posting is to Madrid, Spain, where he is pursuing a master's degree in defense and security studies at Escuela Superior de las Fuerzas Armadas. (ESFAS), the Spanish military's staff college.
After graduating from Thomas Aquinas College in 2005, Lt.-Cmdr. Bergen taught English in Peru before being commissioned in the Navy through Officer Candidate School. Over the course of a dozen years, he served on four ships with stations in Virginia, Argentina, and Rhode Island. He has led sailors as a division officer and department head, with responsibilities ranging from interior communications to anti-submarine warfare and air-defense systems. Over the course of four deployments to Europe and the Middle East, he qualified and stood watch as officer of the deck, surface warfare coordinator, and tactical action officer.
Lt.-Cmdr. Bergen will study at ESFAS through summer 2020 in preparation for further assignments in support of security cooperation with the nation's partners throughout the Western Hemisphere. "Transitioning to Foreign Area Officer allows me to combine my Naval career with my passion for Latin America and the Spanish language," he says. He and his wife, his "beautiful and long-suffering" classmate, Bernadette (Coughlin '05) Bergen, are the parents of five children.