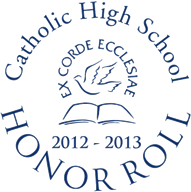 The Cardinal Newman Society has issued its 2012-2013 Catholic High School Honor Roll, recognizing "excellence in Catholic identity, academics and civic education at Catholic high schools across the United States." To make the list, the Society explains, schools must have "an institutional commitment to providing a truly integrated and faithful Catholic education across all disciplines and in all areas of student activities."
Notably, three of the just 50 schools honored on this year's list are headed by Thomas Aquinas College alumni:
"The Honor Roll schools are a reminder that Catholic education is getting better every day — not only academically, but in the renewal of Catholic identity," says Cardinal Newman Society President Patrick J. Reilly. "We are delighted to see the increased level of competition among the schools that participated in the program this year."
Congratulations to Mrs. Grimm, Fr. Moriarty, and Mr. Van Hecke!